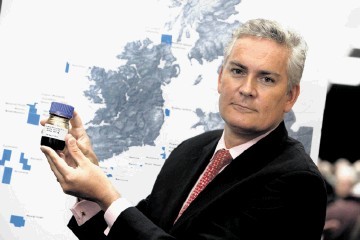 The UK Supreme Court will not hear Providence Resources' appeal against a decision to make the Irish oil and gas explorer and its partner pay Transocean $7million.
Transocean initially claimed Providence and Lansdowne Oil and Gas owed it $19million regarding the use of the Arctic III drilling rig on the Barryroe field off Ireland.
In the initial case, the commercial court in London ruled Transocean was in breach of contract for failing to maintain various parts of its sub-sea equipment and was not entitled to certain remuneration.
But the appeal court overturned the ruling earlier this year and ordered Providence and Lansdowne to pay Transocean $7million.
The UK Supreme Court has now refused Providence permission to appeal on the grounds that it would not raise a point of low of general public importance.
Providence chief executive Tony O'Reilly said: "With this final legal matter now decided, litigation between the parties is ended. With this matter behind us, we will continue to develop our very significant portfolio of assets offshore Ireland, with a particular focus on the farm-out processes for Barryroe and Spanish Point as well as our preparations for the planned drilling of Druid in 2017."
Lansdowne CEO Steve Boldy said: "Whilst it is disappointing that the appeal to the Supreme Court is not proceeding, as this might have resulted in the Barryroe partners being reimbursed for some of the amounts already paid to Transocean, this finally brings to an end this long running litigation and there will be no further costs.
"The dispute arose as a result of the failure of equipment on the rig whilst drilling the Barryroe appraisal well, leading to extensive delay and cost over-run. With the litigation finally behind us, the Barryroe partners can now focus solely upon moving the project forward."
Barryroe, located in the North Celtic Sea Basin, off the south coast of Ireland, has had six wells successfully drilled on the structure.
Providence holds 80% of the licence and Lansdowne has the remainder.