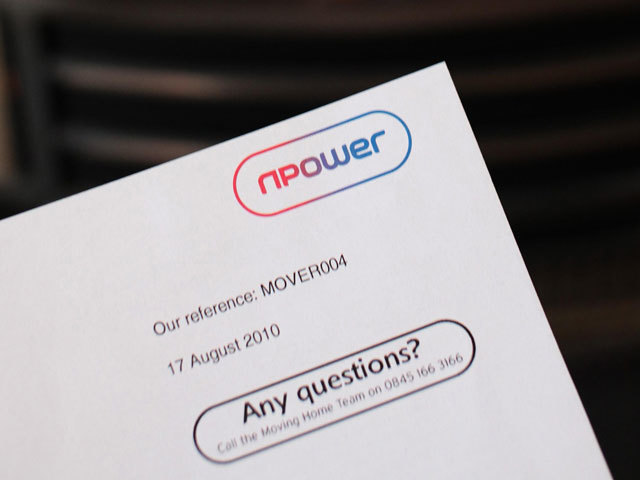 Npower has scored the lowest in an annual energy company customer satisfaction survey for the seventh year running.
Ovo Energy topped the Which? survey, which sees the "Big Six" continuing to languish in the bottom half on key measures such as value for money and customer service.
The watchdog asked almost 9,000 people to rate their provider on customer service and complaints handling, value for money, accuracy and clarity of bills and whether they feel the company helps them to save money.
Npower managed a score of just 44%, but the other big six companies once again fell below many small suppliers with E.ON achieving 57%, followed by British Gas and SSE (56%), EDF Energy (55%) and Scottish Power (50%).
Ovo achieved a customer score of 78%, followed by newcomer Places for People Energy (76%), Ebico (75%) and Flow Energy (73%).
Small suppliers Good Energy (66%) and M&S Energy (55%) slipped eight and nine places in the table respectively.
Electric Ireland (80%) came top out of the suppliers in Northern Ireland, followed by Budget Energy (76%).
However no supplier scored highly enough to be awarded the Which? recommended provider status.
Which? Magazine editor Richard Headland said: "Yet again we have found the Big Six energy firms performing poorly and smaller suppliers leading the way when it comes to customer satisfaction.
"Larger suppliers need to urgently up their game in line with smaller providers.
"Energy companies should now be doing much more to genuinely engage their customers who are stuck on these poor-value deals. If nothing is done, then the energy companies will have no-one to blame if the Government and the regulator have to step in to ensure this market starts working for consumers."
Which? found that customers with the Big Six could save an average of £330 a year by moving to the cheapest dual fuel deal on the market this winter.
An Npower spokesman said: "Obviously we are disappointed despite the slight improvement on previous results.
"But it should be noted that the survey took place last year in the summer/autumn.
"Other surveys, including our own internal customer satisfaction polling, show that we are much improved and continuing to head in the right direction.
"We know we still have work to do and we are very determined to do better for our customers through competitive and innovative tariffs and improving service levels."
Recommended for you

China's Russian energy imports balloon to $88bn since war