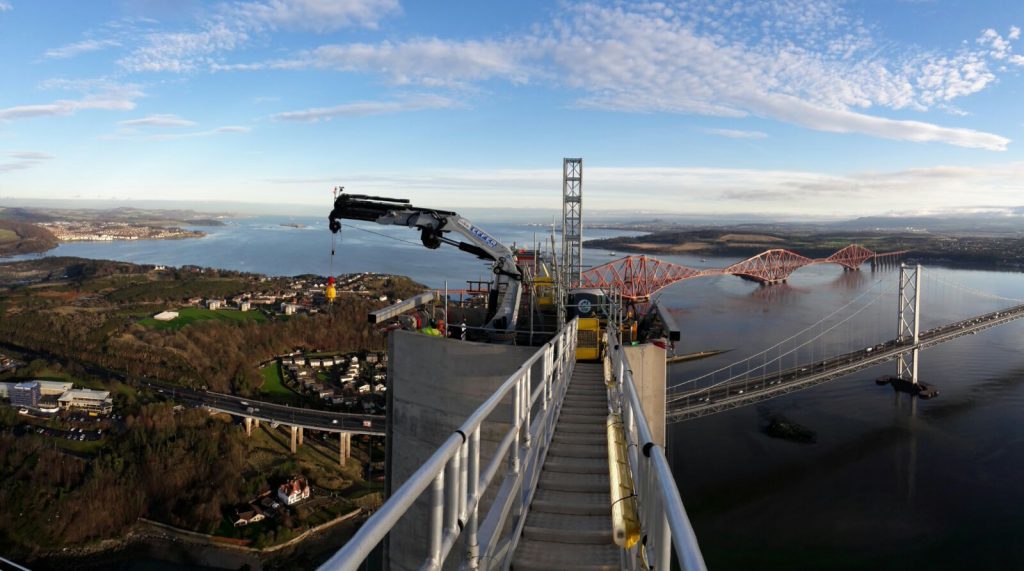 An Aberdeenshire engineering firm has said an unexpected call to provide cranes for the Queensferry Crossing had boosted its growth prospects.
Bosses at Brimmond Group said they could not believe their ears when the consortium behind the project made contact about a year ago.
But project leaders were serious. They needed cranes to perform smaller lifting jobs from on top of the bridge's three towers.
Alan Glennie, technical director at Kintore-based Brimmond, said: "At first we thought it was a joke – putting marine cranes on top of bridge towers.
"But they need to remove the large tower cranes to allow the road to be tarmacked and continue progress with the bridge.
"However, they still needed to lift things up the towers and our cranes were able to do the small jobs they needed."
The cranes have been used to lift items including tensioning equipment, scaffolding and the portable toilets on top of the towers, which have to be emptied weekly.
Mr Glennie said every aspect of the job was challenging, but contractors have been impressed with the outcome.
The three cranes were booked for a minimum of six months each, which has underpinned the group's strong rental performance.
Brimmond turned over of about £4million in the 12 months to March 31, 2017, and is on course for 33% growth for the current financial year.
The company specialises in the design, repair and supply of equipment for the offshore oil and gas industry, though the net has been widened to include other sectors, including defence, renewables and fish farming.
Brimmond, founded in 1996, has managed to get through the worst of the downturn without any redundancies. It hired two designers in recent months to lift its headcount to about 25.
Mr Glennie said Brimmond's resilience was largely due to the company's commitment to living within its means.
The group prefers to add to its fleet of cranes, hydraulic power units, umbilical reels and pumps without borrowing funds.
Earlier this month, the group took delivery of one of the biggest marine rental cranes on the market, an Effer 175000.
Steven Simpson, business development manager at Brimmond, said he expected the crane to attract a lot of demand from the decommissioning and renewables markets, in particular.
Brimmond Group companies include Rigrun Europe, Pump Solutions and Preffered Marine Cranes, the UK's sole distributor of Effer cranes.
They are all based under one roof at the group's headquarters in Kintore.