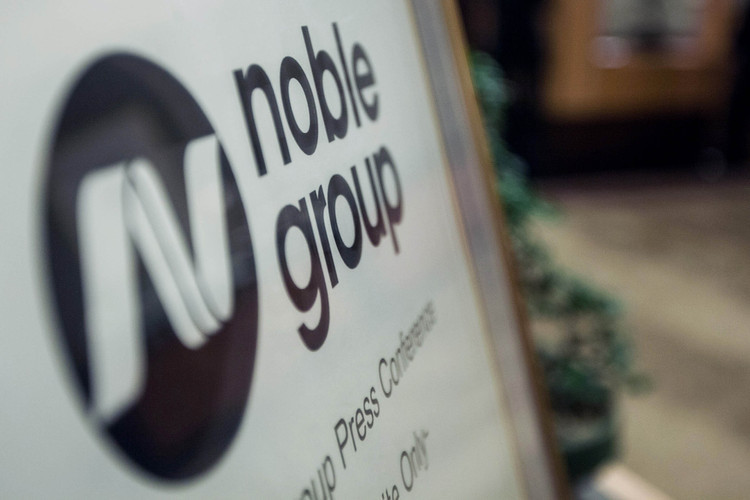 Noble Group is seeking a strategic investor to drag the beleaguered commodities trader out of what it calls an "incredibly difficult environment."
The company's market value has shriveled by more than $1 billion this year as the Hong Kong-based firm reported a first quarter loss, S&P Global Ratings flagged a risk of default and Fitch Ratings Ltd. cut its credit rating twice in less than two weeks. The stock has lost more than 75 percent this year, sliding further on Tuesday to 38 Singapore cents, the lowest since 2001.
As Noble works with Morgan Stanley and Moelis & Co. to review its options amid the deepening crisis, potential investors will be scrutinizing the company's remaining businesses after a torrid few years during which it sold off prized assets in an attempt to shore up its finances, including its North American power trading unit and agriculture arm.
They include gasoline blending facilities on the U.S. Gulf Coast, petroleum storage in Panama, fuel transport via American pipelines, marketing rights to Indonesian coal and liquefied natural gas trading capabilities. The company's also got stakes in Australian and Mongolian coal mines and an alumina refinery in Jamaica. The information below is taken from company reports, earnings statements and Noble's website and is subject to change.
Following a revamp in 2016, which included the sale of its U.S. energy solutions unit, an exit from European gas and power as well as a reduction in its global metals business, the trader changed the way it differentiates its segments.
Energy
Under the new structure, Noble's energy segment comprises the oil liquids, gas & power and energy coal units. It had operating income from supply chains of $27 million in the first three months of 2017, compared with the group's loss of $2.6 million. In revenue terms, it accounted for about 90 percent of total sales in the January-to-March period.
Oil Liquids: The company trades crude and refined products via ship, barge, pipeline, truck and rail. In the U.S., Noble transports fuels via pipelines including Colonial, Magellan and Explorer, and produces ethanol in South Bend, Indiana. It has blending and wholesale facilities in North America and the Caribbean. In 2014, Noble reached a deal to loan $1 billion to Ecuador's state oil company and signed a five-year contract to supply the South American nation with refined fuels.
Gas & Power: The unit is now focused on its North American and global LNG businesses after the trader sold Noble Americas Energy Solutions — an asset it once considered core — last year to raise about $1 billion. Noble supplies gas in the Pacific North West from Canada into the West Coast of the U.S.
Energy Coal: Noble has a portfolio of offtake and marketing agreements with several mines worldwide from Australia to Indonesia and South Africa, and supply contracts with customers such as power producers and trading houses in key markets including China, India and Japan.
Metals, Minerals and Ores
As part of the new structure, this business segment combines Noble's metals, carbon steel materials and logistics units. It posted an operating loss from supply chains of $29 million in the first quarter.
Metals: Noble's metals unit comprises its Asian base metals arm, trading copper, zinc, lead, nickel and other raw materials and its global aluminum business. Noble has a 55 percent stake in a joint venture with the government of Jamaica, which mines bauxite and refines it into alumina before it's exported. The facility has a production capacity of 1.425 million metric tons a year, according to information on Jamalco's website.
Carbon Steel Materials: This unit focuses on providing raw materials such as iron ore, chrome, manganese and metallurgical coal and coke to mainly Asian steel mills. Noble doesn't own any production assets.
Logistics: With offices in Hong Kong, Singapore, Mumbai, Beijing and London, Noble's logistics business services external customers as well as its internal freight requirements, shipping commodities in Capesize, Panamax and Supramax bulk carriers. At any given time, Noble has more than 100 vessels on charter, either owned, bareboat, time charter period or single trips, the company said in its latest annual report.
Joint Ventures & Associates
Some of Noble's assets are held by the joint ventures and associated companies in which it has shares. These include Yancoal Australia Ltd., the miner majority-owned by China's Yanzhou Coal Mining Co., as well as mines in Mongolia and South Africa.
Recommended for you

Big Wind's belated big push for the near 100% recyclable turbine