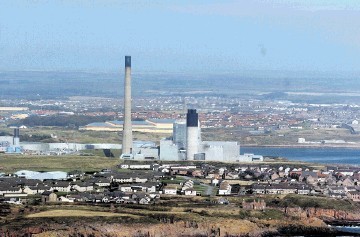 A pioneering new carbon capture and storage scheme could be about to rise from the ashes of the abandoned £1billion Peterhead project.
And it was claimed last night that the clean energy initiative could become even bigger than previous plans that were controversially ditched by the UK Government in 2015.
First Minister Nicola Sturgeon announced funding for a feasibility study called into "Acorn CCS" at St Fergus, Aberdeenshire, in her programme for government yesterday.
Acorn project manager Tim Dumenil (cor) said his team wanted to create a smaller-scale project than the one previously proposed for Peterhead's gas-fired power station, in order to remove some of the barriers faced by larger CCS projects.
But he hoped a much larger development will emerge as a result of the work.
He said: "We're looking to re-use existing oil and gas infrastructure and St Fergus already has some CO2 separation technology installed, then look at re-purposing existing pipelines to take the CO2 offshore.
"The scheme could expand via the Feeder 10 pipeline to link up with Grangemouth, which has the largest cluster of industrial emissions in Scotland.
"Then we're looking at importation of CO2 from places like Teeside and Amsterdam.
"If we can see our Acorn project all the way through to the sapling being installed then it should grow to being a project of equivalent or even greater size than Peterhead."
Carbon caputre and storage (CCS) technology enables harmful emissions to be caught and stored before they enter the atmosphere.
It is viewed as vital in the battle against global climate change, but the UK Government pulled its support to develop CCS at SSE's power station in Peterhead in 2015.
Mr Dumenil said the £1.8m feasibility study – backed by £100,000 from the Scottish Government – would be getting under way "in the next month or so" and last 19 months.
The aim is to have a working CCS project, dealing with 3,000 tonnes of CO2, by 2023.
Banffshire and Buchan Coast MSP Stewart Stevenson, SNP, said he was delighted to see fresh ideas following the UK Government pulling the plug on Peterhead, which would have created hundreds of jobs and investment across the region.
He said: "The decision by the UK Government in 2015 to remove funding for CCS was a huge loss to the north-east. 
"Scotland is working towards a low carbon economy and we must support all efforts to ensure we do so."
Scottish Conservative energy spokesman Alexander Burnett said: "CCS is an important technology, but the high cost of large-scale projects proposed previously has so far prevented the UK from pushing ahead with this.
"The feasibility study could provide valuable information on ways to reduce those costs and assess the long-term viability of this technology."
But north-east Labour MSP Lewis Macdonald called on the Scottish Government to take the threat to the North Sea oil and gas industry more seriously, after the industry was not mentioned in the programme for government.
He said: "Ministers have failed to address the problems facing North Sea oil and gas from the start, and are now wiping their hands of the issues still facing the industry today."
A Scottish CCS spokeswoman said: "North-east Scotland is where CCS can be built most rapidly and cost-effectively, with low-cost CO2 transport and secure storage sites.
"By starting small, with a project such as Acorn, we can build out from there to deliver a large-scale industry capable of bringing both economic benefits and effective climate action.
"A CCS industry in Scotland can make use of the skills and expertise of an oil and gas industry in transition and it is an important step towards decarbonising Scotland's industry, as part of the UK's overall efforts, and future-proofing it as Europe moves towards a net zero carbon future.
"We can be a key player in delivering CO2 storage for both the UK and mainland Europe."
Recommended for you
X

New World Oil and Gas seeks British Virgin Islands move