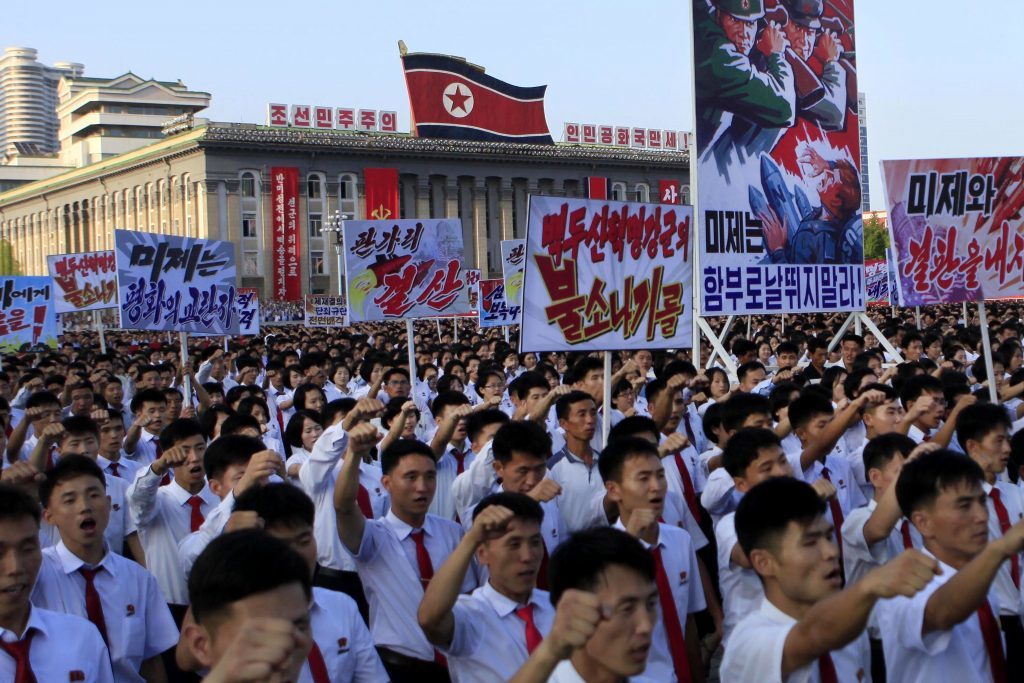 US President Donald Trump has said new UN sanctions "are nothing compared to what ultimately will have to happen" to stop North Korea's nuclear march.
US officials showed Congress satellite images of illicit trade to highlight the challenge of getting China and Russia to cut off commerce with the rogue nation.
The UN Security Council's new restrictions could further bite into North Korea's meagre economy after what Kim Jong Un's authoritarian government says was a hydrogen bomb test on September 3.
The world body banned North Korean textile exports on Monday, an important source of hard currency, and capped its imports of crude oil.
The measures fell short of Washington's goals: a potentially crippling ban on oil imports and freezing the international assets of Kim and his government.
"We think it's just another very small step – not a big deal," Mr Trump said as he met with Malaysia's prime minister at the White House. "But those sanctions are nothing compared to what ultimately will have to happen."
Despite its limited economic impact, the new sanctions succeed in adding further pressure on Pyongyang without alienating Moscow and Beijing.
The US needs the support of both of its geopolitical rivals for its current strategy of using economic pressure and diplomacy – and not military options – for getting North Korea to halt its testing of nuclear bombs and the missiles for delivering them.
Mr Trump said it was "nice" to get a 15-0 vote at the UN.
But underscoring the big questions about Chinese and Russian compliance, senior US officials told the House Foreign Affairs Committee on Tuesday that effective enforcement by both of the North's neighbours and trading partners will be the acid test of whether sanctions work.
The UN has adopted multiple resolutions against North Korea since its first nuclear test explosion in 2006, banning it from arms trading and curbing exports of commodities it heavily relies on for revenue. That has failed to stop its progress towards developing a nuclear-tipped missile that could soon range the American mainland.
Briefing Congress, treasury assistant secretary for terrorist financing Marshall Billingslea displayed satellite photos to demonstrate North Korea's deceptive shipping practices. He focused in particular on how it masks exports of coal that were banned in August after North Korea tested two intercontinental ballistic missiles.
In one example, a North Korean ship registered in St Kitts and Nevis was said to have sailed from China to North Korea, turning off its transponder to conceal its location as it loaded coal. The ship then docked in Vladivostok, Russia, before finally going to China to presumably unload its cargo.
China accounts for 90% of North Korea's external trade.
"The success of the pressure strategy will depend on cooperation from international partners, especially Beijing," said Susan Thornton, America's top diplomat for East Asia. "We have also made clear that if China and Russia do not act, we will use the tools we have at our disposal."
Those tools include more sanctions. In June, the US designated the Bank of Dandong, a regional Chinese bank, as a "primary money laundering concern" over its alleged help to North Korea in accessing the US and international financial systems.
Billingsea described the action as "a very clear warning shot that the Chinese understood."
He said North Korean bank representatives still operate in Russia in "flagrant disregard" of UN resolutions that Moscow voted for. This summer, the US targeted two Russian companies with penalties for supporting North Korean missile procurement.
Recommended for you

Hiring: NSTA lists £96,055 head of disputes and sanctions job