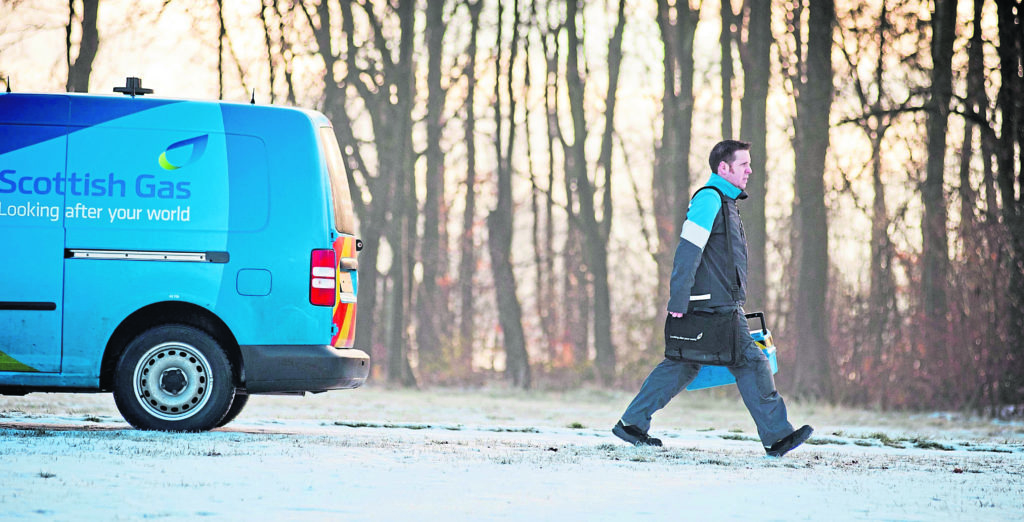 The owner of Scottish Gas suffered a near-£1 billion plunge in value yesterday despite it more than quadrupling profits during 2018.
Shares in energy giant Centrica sank around 12% after it warned of an expected hit to 2019 performance from the new price cap on default tariffs.
Lower volumes in oil & gas exploration and production (E&P) and nuclear operations are also expected to put operating cash flow "under some pressure" this year.
Centrica, which lost 742,000 Scottish Gas and British Gas customers last year amid intense competition in the energy supply sector, highlighted a 12% rise in operating profits to £1.39bn.
Pre-tax profits rocketed to £575 million, from £137m the year before, against a backdrop of "volatile commodity prices, extreme weather patterns, continued competitive pressures and political and regulatory scrutiny and intervention".
The new price cap for standard variable or other default energy tariffs – intended to protect consumers – came into force at the start of this year.
But energy regulator Ofgem has already raised the cap and millions of UK households will be worse off after the higher ceiling takes effect in April.
Britain's "big six" energy suppliers have all raised their standard variable tariffs, with SSE the last to do so yesterday in a move affecting about 2.1 million customers who will typically see their bills rising by £117 a year.
Centrica said an "unexpected one-off impact" in the first period of the cap would cost it £70m this year.
Centrica's chief executive Iain Conn said the 2018 financial performance was achieved "against a challenging external backdrop".
He added: "We are taking actions to strengthen the company in 2019 and improve underlying performance in 2020, including driving cost efficiency hard and delivering further divestments.
"Our focus is on performance delivery and financial discipline as we satisfy the changing needs of our customers."
Hargreaves Lansdown equity analyst George Salmon said Centrica's warning about 2019 cash flow could affect the group's shareholder payouts in the long term.
Mr Salmon added: "The dividend is starting to creak. It's been held at 12p this year, but Centrica is increasingly relying on cost-cutting and disposals to prop up the payment. Neither can continue forever.
"We wouldn't be surprised if a cut was around the corner, especially given the group has previously stated it was only comfortable committing to the dividend if it could generate over £2.1 billion of adjusted operating cash flow, a figure that now looks out of reach next year."
John Moore, senior investment manager for Brewin Dolphin in Scotland, said: "These results are mixed.
"Operating profits are up 12%, costs reductions and debt levels remain broadly on track, there are positive underlying cashflow trends, and moves to simplify the business will be welcomed.
"Balancing this, analysts will be disappointed by the performance of its exploration and production subsidiary, Spirit Energy, and the company's North American operations.
"Closer to home, British/Scottish Gas lost more than 740,000 customers in 2018, adding to large customer defections in the previous year.
"However, with many of the challenger brands hitting the rocks over the past year, it is beginning to feel like a survivors' market which may benefit Centrica in the long term."
Meanwhile, Centrica is poised to cash in on the sale of US plumbing and electrical business Clockwork to Authority Brands, a home services franchise operation, in a £230 million deal.
Centrica said yesterday it aimed to sell business worth a total of £500m this year, including Houston-based Clockwork, which is currently part of Centrica's Direct Energy business in North America.
Recommended for you

UK's big energy short pays off with £1.2 billion windfall