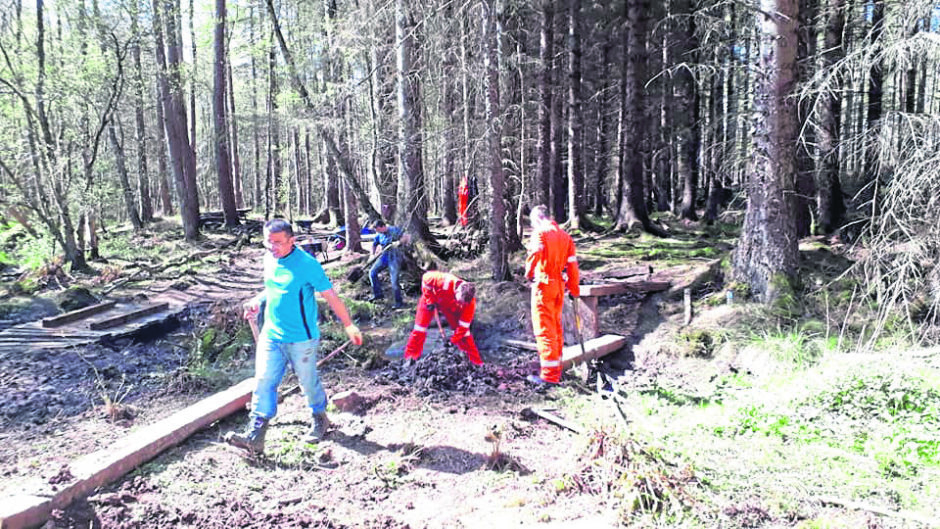 A North Sea oil firm has been digging deep in their efforts to help restore a footpath at a picturesque Deeside estate.
BP staff have been assisting the National Trust for Scotland rangers build a new boardwalk using old railway sleepers almost 100ft in length.
The previous path was badly damaged by Storm Frank in 2016 and then a tree collapsed during high winds over the winter.
Toni Watt, one of the rangers, said the help from the oil firm had been invaluable in getting the project off the ground.
She said: "About eight to 10 people from BP have been coming along each day to help out.
"It was actually BP that helped us build the original boardwalk back in 2005 or 2006.
One of the employees who walks his dog at Crathes saw the path had been closed and then spoke to the company to get them involved.
"Having them involved makes such a difference, it would have taken us so much longer without their help."
"We hope to get it finished by this weekend but it depends on how long the heavy work takes us to finish, then we still have anti-slip nets to put on the boardwalk."
Tim Smith, vice president of communications and external affairs for BP North Sea, said: "BP has a strong track record of going beyond our core business responsibilities to work in partnership with communities and voluntary groups to bring broader cultural, social and economic benefits.
"BP volunteers were involved in the initial build of the boardwalk so when we heard it had been damaged we were delighted to lend our support to help reinstate this popular feature at Crathes."
Recommended for you

Big Oil faces headwinds after record $199 billion profit haul