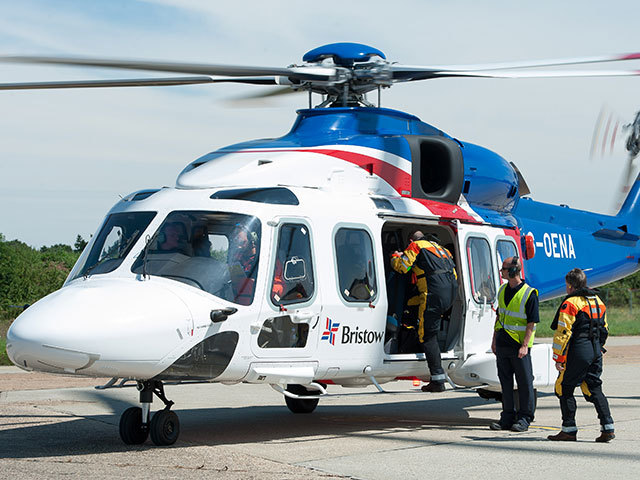 Bristow Group has filed for US-style Chapter 11 bankruptcy in an effort to restructure and strengthen its balance sheet.
Bristow intends to use the Chapter 11 proceedings to achieve a more "sustainable debt profile", the firm said.
Its operations are expected to continue as normal for the duration of the process.
The Chapter 11 filings apply to some of Bristow's legal entities in the US and two of its Cayman Islands subsidiaries.
Bristow's other non-US entities are not included.
The Texas-based group is the parent company of a North Sea helicopter firm which also carries out search and rescue operations in the UK.
It has around 900 employees in Britain.
Chapter 11 lets firms continue trading while paying off debts, a method also taken by oilfield services firm Expro in December 2017.
Another helicopter firm CHC filed for chapter 11 bankruptcy in 2016 which it managed to survive thanks to financial restructuring.
Bristow Group chief executive L. Don Miller said: "After working diligently with our advisors on a thorough review of strategic financial alternatives, the board of directors and management concluded that the best path forward for Bristow and its stakeholders is to seek Chapter 11 protection.
"This process will allow us to strengthen our balance sheet, achieve a lower and more sustainable debt level and emerge as a stronger company.
"We have the support of the overwhelming majority of our parent company senior secured noteholders, with whom we have entered into a restructuring support agreement that will help to de-lever our balance sheet, and we are actively working with other important stakeholders as we enter this process."
Mr Miller added: "Bristow remains steadfast in its commitment to safety and providing exceptional client service during the Chapter 11 process.
"For clients, it is business as usual at Bristow, and our talented team will stay focused on delivering safe, reliable and professional services around the globe throughout the process and beyond.
"We expect to execute a prompt and efficient reorganisation, and to emerge from this restructuring process as a stronger company that is an even better business partner, employer and trusted service provider.
"We deeply appreciate the hard work of our dedicated employees and their commitment to each other, our valued clients and our passengers.
"We are also grateful for the many years of support by our suppliers and business partners, and we look forward to continuing to work with them as we move through this process and beyond."
In addition to executing the restructuring support agreement with the company, certain senior secured noteholders made a $75 million term loan to the company prior to the court filing, and provided a commitment for a further $75m in debtor-in-possession financing that would be available upon court approval.
The financing package provides Bristow with capital that enables the company to fund its global operations and make continued investments in safety and reliability during the Chapter 11 reorganisation proceedings.