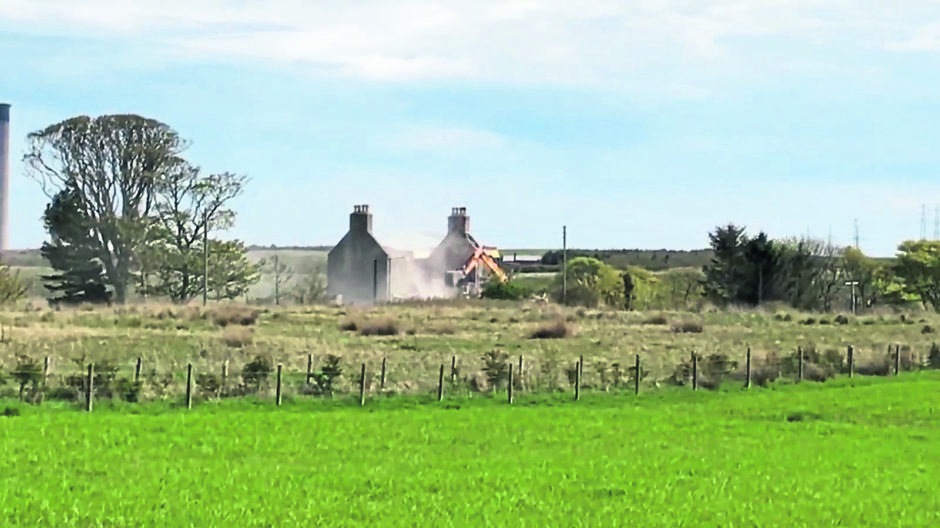 Aberdeenshire Council has ordered the owners of a listed building to call off the diggers pending an investigation.
Council officers will visit Wellington Place Farm House in Peterhead, owned by Score Group, next week to see if demolition works have been carried out without the appropriate planning permission.
Score's request to knock down the B-listed building was refused in 2017.
But diggers were spotted carrying out work at the site earlier this week, prompting fears unauthorised works were under way.
Last night deputy managing director Conrad Ritchie dismissed the claims and said work had only been carried out to make the property safe and secure.
A spokeswoman for Aberdeenshire Council confirmed an investigation would be carried out.
She said: "We can confirm a temporary stop notice was served on Monday regarding the demolition of Wellington Farm House, a category B-listed building.
"The notice prevents any further activity taking place on the site for 28 days, during which time the council will continue its investigation into the matter and determine further action to be taken."
One local resident, who filmed the diggers at work, questioned the need to demolish the house.
He said: "A few years ago the property was for sale in a livable condition.
"A planning application was put in by Score to demolish it.
"That was rejected and in the last month or so there was a fire there and some cars were hanging about.
"This weekend they started knocking it down and I knew there had been permission denied before so thought it was very strange."
Mr Ritchie, however, said the protected elements of the building had not been touched in the efforts to secure it.
"Wellington farm has been unoccupied for a number of years.
"Of late it has been the subject of vandalism and in April it was subject to an arson attack which left the property significantly damaged and unsafe.
"What we have done is secured the property and made it safe by removing the areas damaged by the fire.
"We have not knocked down the frontage or side elevations of the house which were the focus of the listed criteria.
"It would never be the intention of our company to demolish a property without the necessary permissions, in this case the safety issue which was raised by Police Scotland after the fire was the priority and we have removed future possibility of fire recurring."
Councillor Stephen Calder, who reported the alleged works to the council, said the 2017 application had been rejected amid concerns about its listed status, and the details published when it was up for sale.
He said: "This is a matter of great importance as it's a B-listed building involved."
Recommended for you

Investor unveils plans for new business park