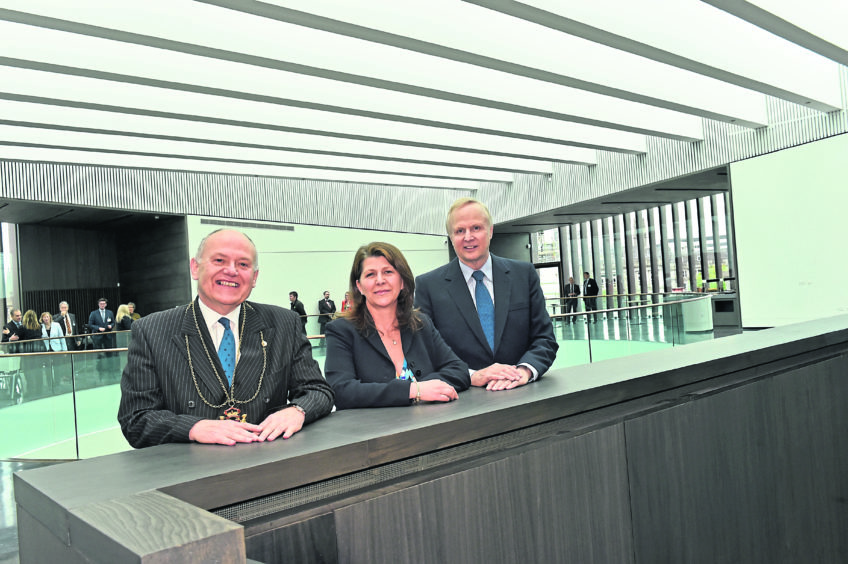 The Press and Journal gained a sneak preview of the long-awaited £34.5million revamp of Aberdeen's Art Gallery yesterday.
As hundreds of paintings, sculptures and displays were being carefully unpacked and dusted down, after almost three years in storage, the changes to the new copper-clad top floor and rooftop terrace were unveiled.
The original sweeping staircase from the ground floor has been replaced with a straight stair which passes through each level along one of the inner walls.
The atrium of the second floor is exposed in the centre to reveal a roof to ground floor view – with the first floor gallery balcony sandwiched in between.
Panoramic views of the city's rooftops can be enjoyed from within the central atrium of the top floor, which now houses a gift shop and cafe.
And bistro-style seating will be placed on the outer terrace which overlooks Union Terrace Gardens.
However, as the sight of builders working away during yesterday's tour reminded guests, the gallery has failed to meet its deadline for reopening by two years – while costs have spiralled by £4.5 million.
But the troubled project received a boost yesterday as BP announced it will donate £1 million to the scheme.
And, in recognition of the gesture, the new second floor extension will house the BP Galleries –  along with the return of the BP Portrait Awards in 2020.
Initially billed at £30m, the costs were split into three, with £10m each coming from the Heritage Lottery Fund and the City Council's non-capital housing fund and the remainder being mopped-up from public donations.
The flagship project has suffered a number of technical setbacks and £8.7million is still needed in public donations to meet its target, even after the BP cash boost.
Last night, Lord Provost Barney Crockett said he hoped other donors would now be encouraged to come forward.
He said: "This investment by BP means that a new generation of visitors will experience and engage with exhibitions of the highest quality.
"We had intended to be about half-way with the public funding at the opening of the gallery, so we are still on target.
"I think this will be an enormous incentive for others to follow BP's lead when they see them committing on this scale.
"We appreciate that there has been a delay, but I think people will see that it's been well worth it once it is opened."
BP's group chief executive, Bob Dudley, made the £1m announcement at the gallery last night.
He said: "Today's commitment adds the Aberdeen Art Gallery to the list of great institutions we support, in a city that is home for our people, our business and the community we are a part of."
Recommended for you

Aberdeen City Council wins funding to progress hydrogen and solar ambitions