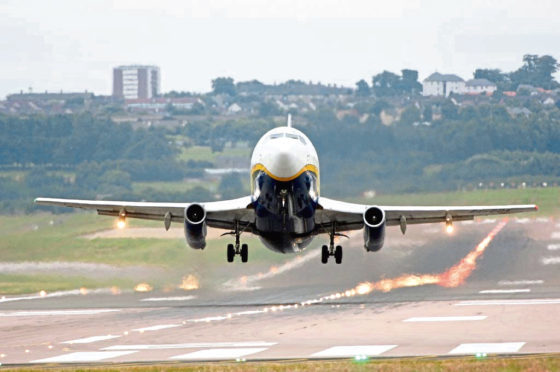 Aberdeen Airport staff are set to strike again amid concerns that those drafted in to replace them are overlooking serious security threats.
Unite the union confirmed last night that airport staff had rejected the latest 3% pay increase offer – meaning further strikes will go ahead on the 27 and 28 June.
The announcement comes as it was revealed over the weekend that replacement staff brought in to operate baggage X-ray scanners may have missed up to 70 suspicious items.
It's thought a succession of serious breaches took place during the last round of strike action on June 7 and 10.
Aberdeen International Airport's managing director, Steve Szalay, described the news as "extremely disappointing" as 65% of staff are expected to down tools for the third time in a month.
Shauna Wright, Unite's north-east regional officer, said: "We want to be clear about this; our members do not want to strike.
"They are left with no alternative given the threats and intimidation and the lack of consultative, meaningful dialog taking place.
"We will wait to hear from airport management on whether they wish to get back round the negotiating table or whether they are more interested in needlessly escalating this dispute."
The new pay deal was rejected by 62.8% of workers, with more than 71% of those balloted understood to have also rejected a fresh pension proposal.
Unite said the ballot turnout was 96%.
Strike action will begin at Aberdeen Airport on 27 and 28 June between 6am and 10am on each day.
Mr Szalay claimed the rejected pay deal tabled to staff would have resulted in an "unconditional two year offer" and a £600 lump sum payment.
It is also understood that if strike action goes ahead the pay offer will be immediately withdrawn.
Mr Szalay added: "Our focus will now be on ensuring passengers will not be impacted by the upcoming industrial action which Unite has scheduled to target the busy summer getaway.
"Our robust and safe contingency measures will be in place on 27 and 28 June meaning it will be business as usual on those dates."
Reports over the weekend suggest serious items such as knives and guns could have been missed during airport searches.
The Civil Aviation Authority, the organisation responsible for UK airport security, said last night it "cannot provide public comment on security matters".
Recommended for you

Petrofac workers on BP assets resume strikes after talks break down