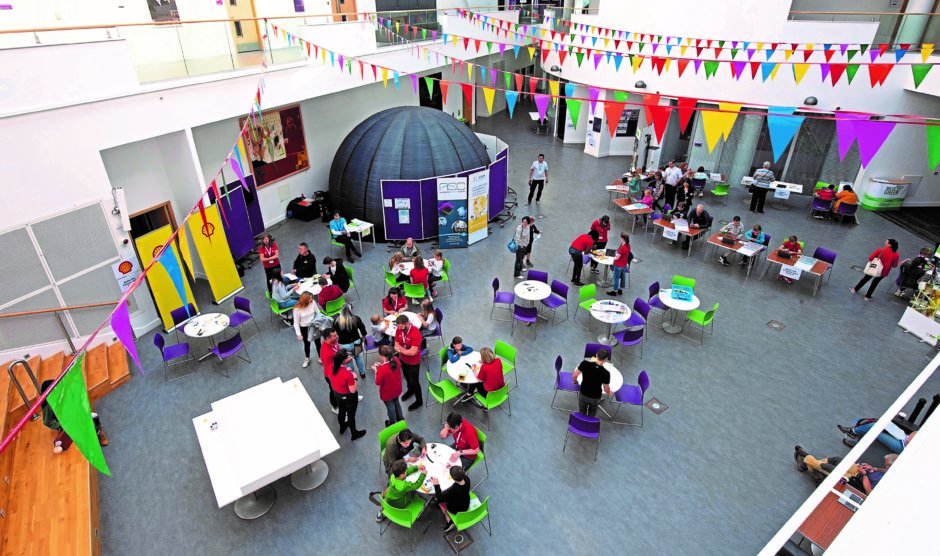 As festivals go, TechFest is rather unusual. Rather than celebrating striking works of art or talented local musicians, it focuses on science, technology, engineering and mathematics (Stem).
Forget stuffy classrooms and boring lectures, the festival aims to inspire the next generation of scientists and engineers via engaging talks, workshops and activities.
Taking place from August 24 to September 28, TechFest is certainly good at what it does and is this year celebrating the 26th edition of the festival.
It's no surprise the event is popular; where else can you go stargazing, make slime, take part in an explosion and learn how to speak gorilla all in one afternoon?
And it's not just for kids, either, as adults can explore everything from medication resistance and insomnia to the science behind Champagne.
The festival itself lasts just over a month, though the majority of public activities are concentrated over the first weekend, August 24 and 25.
"The big flagship weekend is what people really know us for," said Sarah Chew, TechFest's managing director.
"It's been going on for 26 years now, although TechFest in some form or another has actually been around for more than 40 years.
"It's grown hugely in that time and over the last while we found we were feeling quite limited by the one-month festival constraints.
"So for the last few years we have been putting on events throughout the rest of the year, too, in schools, libraries and community centres.
"But when the end of summer rolls around, it's great to have the festival to look forward to."
And where TechFest really excels is its inclusivity.
Whether you're a 12-year-old boy who is science and spaceship obsessed, an excitable toddler who loves messy play or well into your 50s and curious about cutting-edge medical research, there will be an event for you.
"TechFest festival aims to reach its audience through a range of events, each targeted at different age groups to ensure there's an opportunity for everyone to get involved," said Sarah.
"It starts right from little kids in our 'toddle-fest' space, which is designed to get our youngest visitors learning without realising.
"Then there are plenty of events for primary and secondary age children, as well as workshops and talks which are specifically geared towards families.
"The Eureka Series (running in libraries across the north-east) has been particularly popular in the past, where we look back at ancient history like the Vikings and Egyptians to see how they utilised science and technology.
"Meanwhile, for adults there are sessions in cartography, electric car advancements, Hollywood film science and more."
And it's not just all organised events, either.
The Sir Ian Wood Building at Robert Gordon University will be a hive of activity over the weekend of August 24 and 25 with interactive games and exhibits which can be explored at your own pace.
It's easy to see why the festival has become a mainstay of the Aberdeen events calendar, and Sarah is thrilled that this year is looking equally as successful.
"The audience we reach throughout the year is up to more than 50,000, which is incredible," she said.
"To do what we do with such a small team is really insane – there are only five of us who work permanently ccoordinating all the different events.
"But we couldn't do it without all our volunteers and event partners; not to mention the
sponsors, who go way above and beyond what we expect.
"They don't just give us money, they sit down with us and work out how they can contribute in useful ways, like producing video content for us, giving us statistics, lending authentic kit for demonstrations and even having employees come and chat to school leavers about getting into the industry.
"I'm so proud to be a part of this organisation, which is filled with people who are so
enthusiastic and passionate about their sector, whether it's engineering, maths, medicine – whatever!
"We just can't wait to get started with 2019's festival."
One of the aims of TechFest 2019, which is supported by joint principal funders BP and Shell, is to engage young people in the four main STEM subjects and encourage them to go on to follow a career which utilises these skills by demonstrating that they are both fun and relevant in day to day life.
Steve Phimister, Vice President for Shell Upstream, U.K. & Ireland, said: "I am delighted that Shell is a part of Techfest 2019.  We hope it will help to inspire the next generation of young scientists and engineers whose skills will be in demand as society addresses global energy challenges".
Ariel Flores, Regional President, BP North Sea said: "BP's education programme in the UK was founded more than 50 years ago with a clear aim: to inspire young people. This founding principle continues to encourage and energise every generation; helping them gain a better understanding of how important the STEM subjects are for our industry and for their futures.
"We are delighted to once again support TechFest which promises to deliver a range of fun-filled activities designed to stimulate an interest in these vital subjects."
TechFest events will take place in venues throughout Aberdeen from August 24 to September 28.
For listings see www.techfest.org.uk or call 0124 274348 for details about picking up a programme.