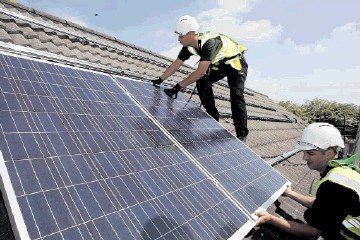 SDCL Energy Efficiency Income Trust is seeking to raise £40 million through a share placing.
UK firm SDCL invests in energy efficiency sector projects in the UK and the US.
The board of SDCL claimed the placing has been "significantly oversubscribed".
It announced it has chosen to increase the size of the placing to raise a total of approximately £54.1 million of gross proceeds.
A total of 52,000,000 Placing Shares will be issued at a price of 104.0 pence per share.
Tony Roper, Chairman of SDCL Energy Efficiency Income Trust plc said: "We are delighted with the response from investors to our third capital raise since our IPO a year ago.
"In light of the offer being significantly oversubscribed we have upscaled our offer size to £54.1 million.
"These funds will allow us to continue to execute on our extensive pipeline of acquisition opportunities.
"This is a very exciting time to be investing in energy efficiency, which plays a key role in reducing carbon emissions, and we continue to focus on ensuring we create value and deliver stable returns for our shareholders."
Recommended for you

Refining drives doubling of TotalEnergies' second quarter income