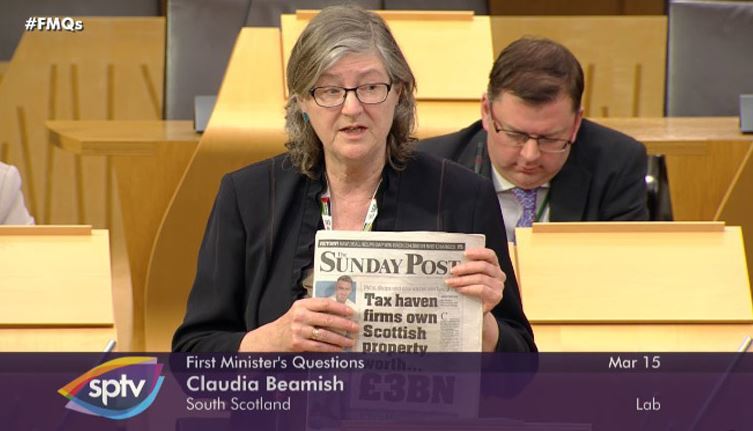 Local authority body Cosla has called for "fair funding" to help councils tackle climate change.
The group said a target agreed at Holyrood last year for Scotland to become carbon neutral by 2045 would be undermined if local councils are underfunded.
Cosla has previously said councils are at "breaking point" following repeated real terms cuts to settlements.
Council funding comes from the Scottish Government directly and is determined in the annual budget, a draft of which is usually published in December.
But after the UK Government delayed setting its own Budget, the Scottish Parliament's financial process was in turn put back.
Finance Secretary Derek Mackay will publish a draft budget on February 6.
Cosla's resources spokeswoman Gail Macgregor said: "This is about more than money.
"It's about investing so councils can reduce the need for travel by developing sustainable alternatives, including the world-class digital infrastructure to enable the transformation of services.
"It's about enabling investment in cleaner, greener public transport and buildings.
"It's about supporting businesses in all sectors to achieve zero carbon, it's about providing and maintaining vibrant green spaces across the country – and only
Scotland's councils can work across all these agendas.
"The risks are clear, trying to meet these ambitious targets without investing in local government will be challenging in the extreme. If we are serious about meeting them a fair settlement is vital.
"We want to ensure that no families live in energy inefficient homes detrimental to their finances, health and wellbeing; we want to ensure that remote and rural communities have transport services that are fit for purpose, and that there is an end to social isolation, limited opportunities and depopulation.
"Addressing climate change depends on the essential services local authorities provide day in, day out. If the Scottish Government is seriously committed to tackling this issue, then it must invest in Scotland's councils."
Labour's environment spokeswoman Claudia Beamish called on the Scottish Government to "heed Cosla's warning".
She said: "We must be clear: the climate emergency is the greatest threat facing humanity and it is down to legislators to take drastic action.
"Local authorities have it within their powers to do much to tackle the climate emergency, from promoting sustainable energy, providing efficient public transport and active travel opportunities and insulating homes.
"But as Cosla has made clear, without a fair deal from the Scottish Government local authorities will be unable to take the lead on these issues.
"Scottish Labour call on the Government to heed Cosla's warning and stop the cuts to council budgets.
"The Government must ensure Scotland's local authorities receive the funds they need to develop and implement vital green policies to raise living standards and tackle the climate emergency."
Recommended for you

Sir Keir Starmer pledges publicly-owned energy company