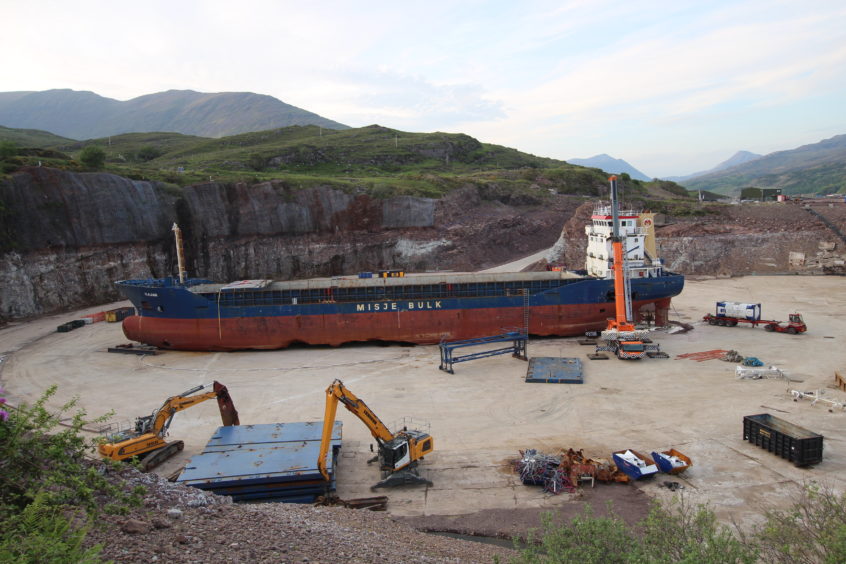 A Norwegian cargo ship which became stranded on the west coast of Skye has been successfully decommissioned from service.
The MV Kaami was sailing in the Minch when it ran aground on March 23, leaving eight Russian crew members stranded.
Following a six-week operation to refloat the 295ft cargo ship, the vessel was towed to the Kishorn Dry Dock where it has now successfully been decommissioned and dismantled.
The project was completed by metal waste recycling and processing experts John Lawrie Metals Ltd in partnership with Kishorn Port Limited (KPL).
Dave Weston, managing director of John Lawrie Metals Ltd, said: "After years of planning and numerous discussions with the team at KPL, it is amazing to think that we have finally assisted them in completing this first successful project. The operation ran smoothly with no safety incidents and that's thanks to great communication and teamwork."
Built in 1994, the vessel, owned by Norway's Misje Rederi, was sailing under the flag of the Bahamas and was previously used to ship John Lawrie-processed scrap metal
to Europe.
Various elements including the propeller and the wheelhouse have been salvaged from the wreckage, with the wheelhouse already in position at a visitors' viewing gallery overlooking the dry dock.
Kishorn Port director, Alasdair Ferguson, added: "We are delighted with the completion of this very successful dismantle, reuse and recycle of the MV Kaami in the dry dock at Kishorn. It demonstrates the dry dock is open for business and its capabilities and heralds a new chapter in the dry dock use going forward, which is a significant milestone at the port."
Recommended for you
Surveys begin at Kishorn with view to 'major upgrade' of Wester Ross port