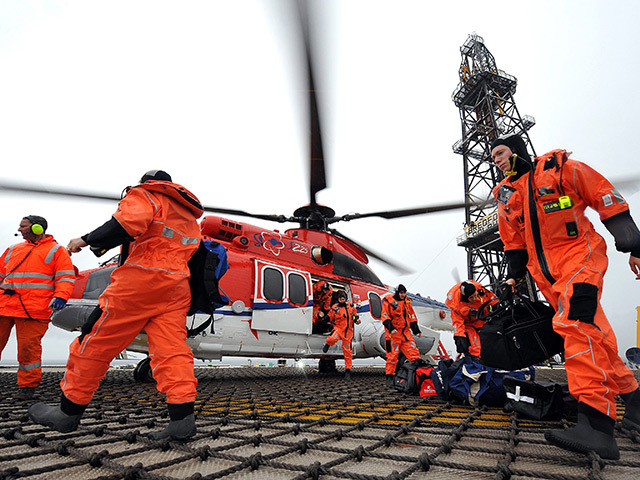 Super Puma passenger flights could resume before the end of the week, operators said last night.
Aberdeen-based CHC, the company which owns the AS332 L2 model which crashed into the North Sea a week ago last Friday, said that plans were under way for a return to normal service in the coming days.
Four people were killed when the aircraft plunged into the sea two miles off Sumburgh Head.
The chopper had been transporting 16 workers from the Borgsten Dolphin platform to Shetland when tragedy struck at around 6.20pm.
Super Puma helicopters took to the skies again on Friday – albeit without passengers – after experts said that technical problems did not cause the crash.
Weather, environmental issues, pilot error or a bird strike have not been ruled out.
Yesterday, a CHC spokeswoman said it was hoped that passenger flights would take off again in the coming days.
"There is a lot of scheduling and planning to go through before we get the service back to normal," she said. "It will happen at some point next week, but we don't have a date for that at the moment."
MORE:
Timeline: How the Super Puma tragedy unfolded
Super Puma wreckage returned to the mainland
Union wants guarantee for workers after fleet reinstated
A Bristow Helicopters spokesman added: "The helicopters are ready to go as and when they are required."
Meanwhile, Chancellor George Osborne will offer his condolences to the relatives of the North Sea crash when he visits Aberdeen this week.
Mr Osborne will pay tribute to the "brave" offshore professionals who work in "an inherently dangerous environment" in a speech tomorrow.
He is expected to sign a book of condolence for those who lost their lives.
Mr Osborne will also praise the courage of those involved in the rescue operation and pledge UK Government support for the industry and ensuring the safety of workers in the aftermath of the crash, the second fatal North Sea helicopter incident in five years.
In April 2009, the same Super Puma model went down north-east of Peterhead on its return from a platform, killing all 14 passengers and two crew on board.
An investigation into last Friday's crash is under way but the Civil Aviation Authority (CAA) has said that it does not believe it was caused by an airworthiness or technical problem.
It is hoped that the recovery of the helicopter's black box voice and flight data recorder on Thursday will shed light on the circumstances of the accident.
A Bond Helicopters spokesman said there was no date confirmed for passenger flights to resume.
Recommended for you

Turbulence at helicopter firm CHC amid management shakeup