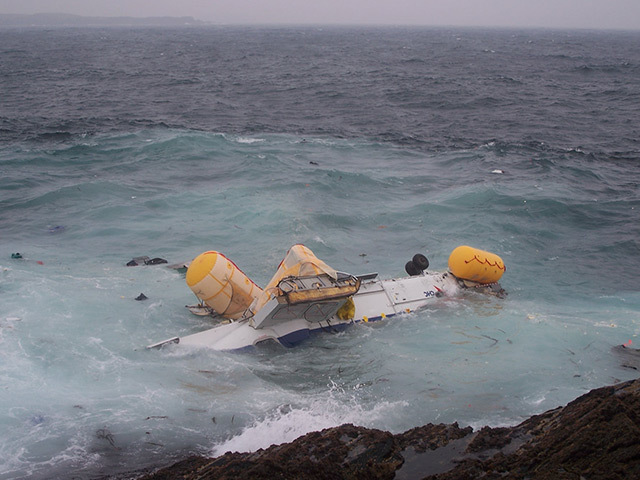 A powerful group of MPs launched an inquiry last night into helicopter safety in the North Sea oil and gas industry.
The transport select committee at Westminster announced the probe after hearing "worrying evidence" that offshore workers have lost confidence in the aircraft.
The inquiry follows the deaths of four workers when a Super Puma crashed off Shetland last month – the fifth incident in just four years.
Committee members want to gather evidence on all of the recent problems to ascertain "what has gone wrong".
They could make recommendations to the UK Government and industry leaders to try to improve safety.
North-east MPs and trade union leaders welcomed the announcement by the influential committee – but insisted it must only be the first step towards a public inquiry.
Announcing the committee's move last night, chairwoman Louise Ellman said: "Any fatal accident is a cause for concern but there have been five helicopter accidents involving personnel from the oil and gas industry in the last four years, two of which caused multiple fatalities.
"We have heard worrying evidence that the workforce has lost confidence in the helicopters which they have no choice but to use."
READ MORE:
Timeline: How the Super Puma disaster unfolded
Unions demand full inquiry into Shetland helicopter tragedy
Jeremy Cresswell: Don't reinvent the wheel over helicopter safety
The Press and Journal understands the committee's inquiry is likely to involve a one-day hearing towards the end of this year, before a report is produced with recommendations.
It is expected that representatives from helicopter operators, trade unions, and oil and gas firms will be called to give evidence.
Jake Molloy, regional organiser for the RMT trade union, warned that the committee's inquiry should not be viewed as a substitute for a full, independent investigation.
"We welcome the MPs taking an interest, of course, but I don't think it should detract from the call for a full public inquiry into the events of August 23 and helicopter safety in general," he said.
"Their investigation will probably be before the AAIB report is produced so any inquiry will have to be held in the loosest possible way."
Robert Paterson, director of health, safety and employment issues at industry body Oil and Gas UK, said: "My initial thoughts would be that we welcome the inquiry, we want to participate, but we will want to see the terms of reference."
Frank Doran, Labour MP for Aberdeen North, said he had lobbied the committee to hold an inquiry, but that he also believed it must just be the first step.
"The inquiry will be a short one, but it will be an opportunity to gather what evidence is available.