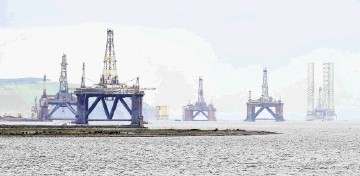 A well-known petroleum economist has warned that a spat over the creation of a new port in the Cromarty Firth risks giving the region a "bad image".
Tony Mackay, head of Mackay Consultants in Inverness, also criticised the Cromarty Firth Port Authority's (CFPA) expansion plans, claiming that its estimates in terms of job creation and economic impact were "silly".
Plans by Global Energy Group (GEG) to create a new port facility at its Nigg Energy Park has stirred up controversy. The Port of Cromarty Firth is objecting to the plans on the grounds it would impact on business.
GEG has argued that having authority to run a harbour would allow them to bring larger scale work to Nigg, where it plans to invest £20million over the next year.
In his monthly economic update, Mr Mackay said both sides should work to sort out the dispute.
He wrote: "I find it very hard to understand why the directors and senior staff of both organisations cannot reach an agreement which would be to the benefit of the Cromarty Firth as a whole. There seem to be some big egos involved."
He added that CFPA has had "great successes" attracting cruise liners to Invergordon and that it has "a good reputation both locally and elsewhere".
"However, the Port Authority has recently fallen out acrimoniously with Global Energy, who own the Nigg Energy Park and are the largest employers in Easter Ross," he wrote. "I am not sure of the real reasons for the dispute but it is giving the Cromarty Firth a bad image."
Mr Mackay further said the port authority's forecasts for the impact of its £25million plan to expand the port facility were "unbelievable".
"The Port Authority claims that the expansion will create 850 permanent jobs  and contribute £26.3million per year to the local economy.
"Those forecasts are unbelievable, of course, and seriously detracted from the expansion business case. It is regrettable that they produced such silly estimates.
"It is very unfortunate for the Port Authority that the expansion has coincided with the collapse in oil prices, which is very likely to result in a serious reduction in oil-related activity in the firth."