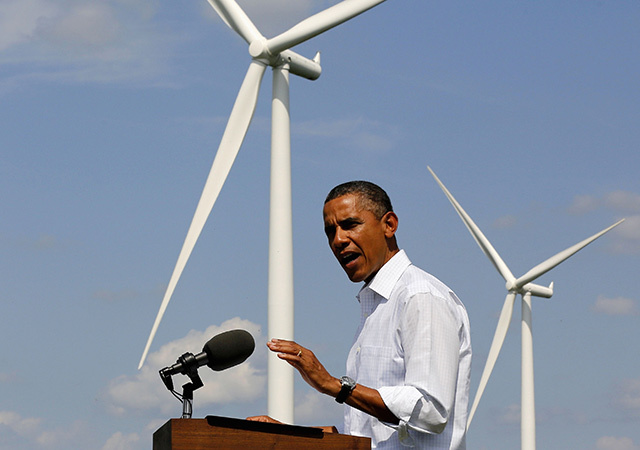 TransCanada Corp.'s Keystone XL pipeline faces one less hurdle after Nebraska's highest court cleared its path through the state, sending the matter back to Washington.
The pipeline would funnel crude from Alberta's oil sands to a network junction in southeast Nebraska, for transport to Gulf Coast refineries.
While the ruling is a victory for energy independence proponents, the project's fate remains uncertain.
It now returns to President Barack Obama, who had put off a decision citing the pending lawsuit.
The House of Representatives plans to vote on a bill that would force approval of the pipeline.
While four of the seven Nebraska Supreme Court judges would have blocked Keystone XL, five were needed to declare unconstitutional a law allowing the governor to dictate its path.
As a result, the route survived by default, though it's unclear if new court challenges may be filed.
The US Senate Energy Committee Jan. 8 passed a measure seeking to force approval of the pipeline, setting up a confrontation with Obama, who has pledged to veto the legislation.
The full chamber is to take up the issue next week, Republican Majority Leader Mitch McConnell of Kentucky has said.
"President Obama is out of excuses for deciding on whether or not to allow thousands of Americans to get back to work," McConnell said today in a statement.
"If today's ruling is still not enough to move the President to approve the project, Congress will force that decision."
TransCanada climbed 1.9% to $47.24 at 10:30 a.m. in New York trading, after rising as much as 3.3% earlier in the session.
A final Senate vote isn't expected until later this month, while the House is to vote on similar legislation.
Democrats in both chambers say they have the votes to sustain a veto, though Keystone supporters contend they are still trying to persuade colleagues.
"TransCanada is left with a risky route to defend," said Jane Kleeb of Bold Nebraska, a group opposed to the pipeline.
"This is a bad day for property rights in our state. Private, foreign corporations now know they can buy their way through our state."
The State Department, which is evaluating the pipeline project, will take the court's decision into its consideration as part of a review of whether TransCanada's proposal serves the national interest, deputy White House press secretary Eric Schultz said in a statement.
"We are going to let that process play out," Schultz said. The threat to veto Republican-back legislation that would authorize construction of the Keystone pipeline still stands, he said, because the bill conflicts with executive authority over the approval process.
The Obama administration had suspended the review of the international pipeline while the Nebraska case was pending.
Environmentalists oppose the project because the energy-intensive extraction of oil from sand is blamed for increasing carbon dioxide emissions linked to climate change.
Keystone XL is one of at least four major Canadian export pipeline proposals to carry surging oil-sands output, which is expected to more than double to 4.8 million barrels a day by 2030, according to a June forecast from the Canadian Association of Petroleum Producers.
Oil-sands production rose to a record of 2.3 million barrels a day in October, according to Alberta Energy Regulator data.
First proposed in 2008, the completion of Keystone XL has been stalled by litigation and political wrangling, helping drive its price-tag to $8 billion from $5.4 billion.
The lower portion of the pipeline has already been completed, at a cost $2.3 billion.
Though its long-term employment impact would be slight — as few as 50 full-time jobs after construction is completed — the project has become a potent economic issue on both sides of the border.
In Canada, it's been an element of that country's strategy to become an energy superpower. In the US, Republicans used it in a successful campaign to reclaim Senate control in the November 4 election, touting the delays as evidence Obama wasn't doing enough to create jobs and encourage energy independence.
Recommended for you

Pantheon plans out its next steps in Alaska