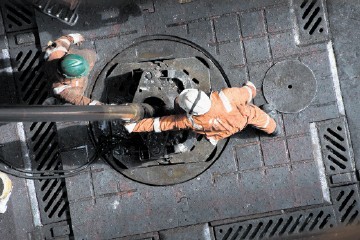 More than £4.7billion worth of UK North Sea assets are up for sale as high costs and the oil price collapse put their owners' balance sheets under pressure, a report has found.
Oil and gas consultancy 1Derrick said that the number of North Sea oil and gas assets on the market has increased to 41 from 30in 2013.
But deals have been slow to progress, with 21% of assets staying on the market for more than a year in 2014, up from 13% in 2013, according to the firm.
Oil giant Shell is still thought to considering the sale of "significant parts" of its North Sea operations including its Anasuria, Nelson and Sean fields. French firm Total is thought to be interested in selling part of its 80% stake in its flagship £3billion Laggan-Tormore gas fieldwest of Shetland, which is due to start production this year.
Meanwhile, ConocoPhillips is still thought to be considering options for its 24% stake in the BP-operated Clair field. German energy firm E.On, which operates the troubled Huntington field, is also splitting off its upstream business from its core operations.
Independent EnQuest is thought to be offering a stake of 10 to 20% in Kraken, while Dana Petroleum is reported to be looking to sell a stake in its Western Isles development project.
Total, along with Enquest and Dana, has since said that it "does not comment on market rumors".
But a spokeswoman for the French firm added: "We would note however, that the Laggan Tormore development is a core asset for Total and, with the start-up of the project later this year, the group will commence production from its third operated-hub in the UK North Sea."
Meanwhile, it is thought that deals will start moving forward as cash strapped sellers agree to lower prices.
German utility RWE recently struck a £3.7billion to sell its oil and gas production division to LetterOne, controlled by Russian oligarch Mikhail Fridman.
Recommended for you

Production underway for Shell at delayed North Sea gas project