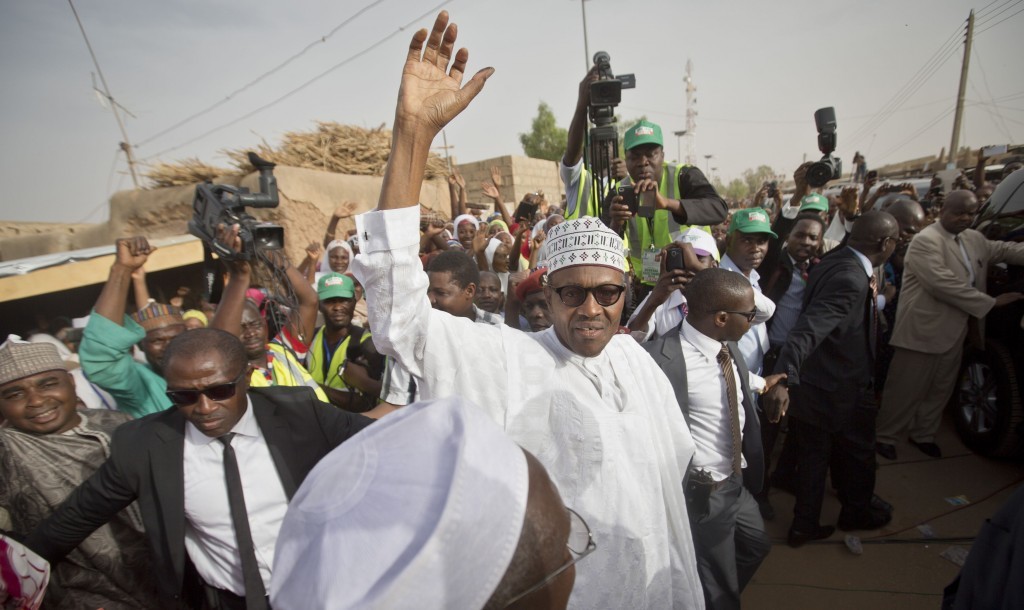 Nigeria's new leader says the nation has put a one-party state behind it and embraced democracy with his election.
Former military dictator Muhammadu Buhari said now is the time "to heal wounds" after a hard-fought contest left emotions running high.
He said in his acceptance speech that his election is a victory for Nigerians and shows their belief in a better future.
Previous president Goodluck Jonathan conceded defeat in a televised address to the nation last night, opening the way for a peaceful and unprecedented transition of power in Africa's richest and most populous state.
Mr Jonathan's concession defused tensions and fears of post-election violence. About 1,000 people died and 65,000 were made homeless in riots in the Muslim north after Mr Buhari lost to Mr Jonathan in 2011.
"Nobody's ambition is worth the blood of any Nigerian," he said. "I promised the country free and fair elections. I have kept my word."
It will be the first time in Nigeria's history that an opposition party has democratically taken control of the country from the ruling party – considered a sign of the west African nation's maturing young democracy.
Mr Jonathan's party has governed since decades of military dictatorship ended in 1999.
Celebrations erupted throughout Mr Buhari's strongholds in northern Nigeria and around his campaign headquarters in Abuja.
Independent National Electoral Commission chairman Attahiru Jega said Mr Buhari received 15,424,921 votes to Mr Jonathan's 12,853,162.
He said among 12 other candidates the only woman, Remy Sonaiya, received 13,076 votes.
Both candidates satisfied the requirement for a victor to win at least 25% of votes in two-thirds of the 36 states and the Federal Capital Territory, achieved by Mr Buhari in 27 states and Mr
Jonathan in 26.
Mr Buhari won 19 states to Mr Jonathan's 17 and the small Federal Capital Territory.
Mr Buhari, who ruled with an iron hand during a brief tenure in the 1980s, won overwhelmingly in the final state to report results, Borno, the birthplace of the extremist group Boko Haram.
The state has endured the worst suffering from the Islamic uprising that has swept through villages and towns in the north, with thousands of civilians killed and many more kidnapped, including hundreds of schoolgirls.
Besides dominating, as expected, in his northern strongholds, Mr Buhari crucially carried Lagos state, Nigeria's commercial hub with the largest number of voters.
He also took other critical competitive states in the country's south west.
The austere and strict Mr Buhari has described himself as a belated convert to democracy, promising that if elected, he would stamp out the insurgency of Boko Haram.
Critics and supporters agree that Mr Buhari is the one leader who did not treat the country's treasury as a personal piggy bank.
During his 1983-85 dictatorship he ruled with an iron fist, jailing people even for littering, and ordering civil servants who arrived late to work to do squats.
He gagged the press and jailed journalists to cover up a deepening economic crisis as prices tumbled for the oil on which Nigeria's economy depends. He eventually was overthrown by his own soldiers.
Nigeria's 170 million people are divided almost equally between Christians mainly in the south and Muslims, like Mr Buhari, who dominate the north.
Mr Buhari's showing in his fourth bid to become president was boosted by the formation of a coalition of major opposition parties two years ago.
Its choice of him as a single candidate presented the first real opportunity in the history of Nigeria to oust a sitting president.
Mr Buhari was also able to count on considerable voter dissatisfaction with the performance of Mr Jonathan, who has been president since 2010.
Because of decades of military dictatorship, Saturday's vote was only the eighth election since the country won independence from Britain in 1960, and the fifth since democracy was restored in 1999.
Recommended for you

Oil and gas windfall tax will send 'shockwaves for years to come'