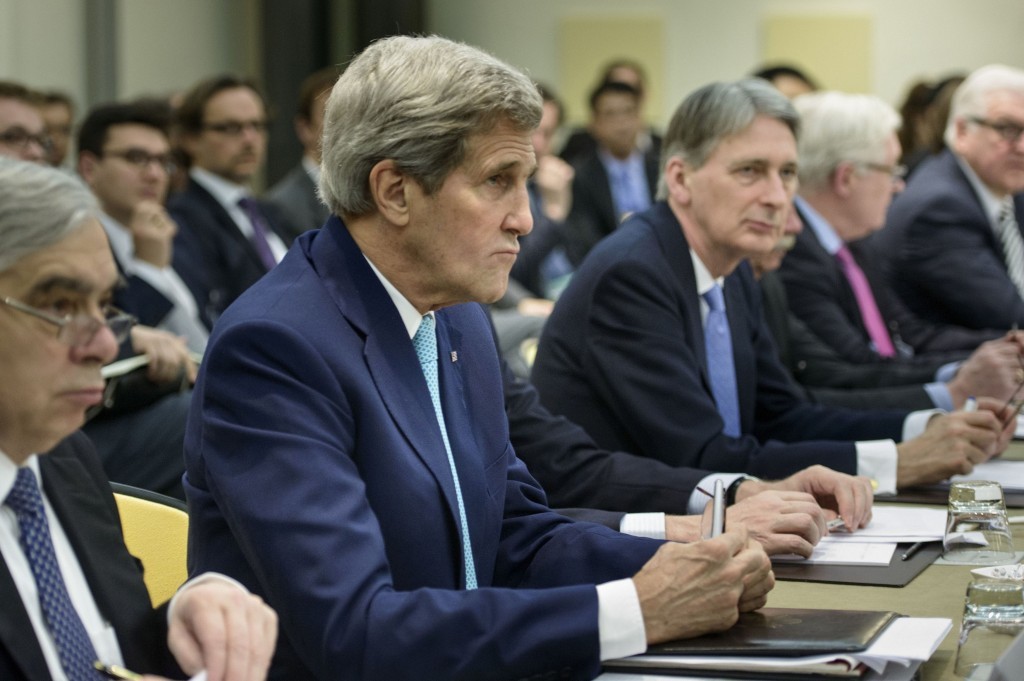 Iran and world powers extended talks aimed at ending the 12-year standoff over the Islamic Republic's nuclear program into an eighth day with the US indicating progress toward an agreement.
Diplomats negotiated all night in Lausanne, Switzerland and will reconvene at about 9:00 a.m. local time, US spokeswoman Marie Harf said.
The US State Department said late Wednesday that enough progress had been made in meetings between Secretary of State John Kerry and his Iranian counterpart Mohammad Javad Zarif to warrant continuing talks.
"We're moving," Zarif told reporters after exiting the negotiating session. Before the overnight talks, he urged "all our negotiating partners to seize this opportunity which may not be repeated."
Diplomats are seeking an accord that would ease Iran's international isolation and reduce the potential for tensions over its nuclear ambitions to escalate into war.
While negotiators are still try to salvage a deal, the claims and counterclaims emerging from the talks suggest sides are also positioning themselves for failure.
French Foreign Minister Laurent Fabius, who left the talks in the early hours of Wednesday and said he'd only come back "if useful," rejoined them as well, and talks dragged on past midnight.
The US won't "arbitrarily and abruptly" halt the discussions if progress is being made, White House spokesman Josh Earnest told reporters in Washington.
This is the 19th round of high-level talks since US President Barack Obama and Iranian President Hossan Rouhani opened negotiations 18 months ago.
Top American diplomats haven't stayed this long at a site while focusing on a single issue for at least 37 years.
"I can't think of a longer stint of Secretarial negotiation since Camp David," said diplomatic historian Alan Henrikson.
A top US diplomat probably hasn't spent this much time negotiating on foreign soil since the 1919 Paris Conference after World War I, said Henrikson, who teaches at the Fletcher School of Law and Diplomacy in Medford, Massachusetts.
Oil fell on Wednesday, with Brent crude falling 0.7 percent at 1 p.m. in Hong Kong. That added to declines earlier in the week partly driven by speculation a deal would let Iranian crude enter world markets.
UK Foreign Secretary Philip Hammond said the sides had a "broad framework of understanding," with some key issues still left to resolve.
Envoys to the negotiations are "working hard to finalize a deal, a good deal," European Union foreign policy chief Federica Mogherini said on Twitter.
Should the negotiators manage an agreement, they have until the end of June to work out the precise mechanics of the accord, spelling out how Iran will restrict its nuclear activities in exchange for sanctions relief.
A senior Iranian negotiator, Deputy Foreign Minister Abbas Araghchi, suggested his nation had showed new flexibility over the easing of United Nations sanctions, an issue that's been an impediment to a deal.
Speaking in Persian to state television, he suggested movement from Iran's longstanding position that UN sanctions must be removed at once, a demand that has made a deal impossible so far.
Iran needs any deal to cancel "all economic, financial, oil and banking" sanctions "in the first step," he said. "Other sanctions should fit in an organized framework."
The UN sanctions restrict proliferation-sensitive technology and military trade, and Security Council members have said they could only be lifted in a phased approach, over several years.
Even if there's no accord this week, the interim agreement the sides reached in November 2013 will run until July 1. That deal capped Iran's most sensitive nuclear work in exchange for limited sanctions relief.
Curbs on oil sales, which have slashed exports in the country with the world's fourth-biggest reserves, remain in place.
Recommended for you

Guide: The polluting countries that could derail COP26 climate talks