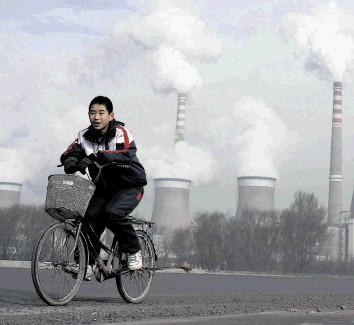 Pledges to cut greenhouse gases being made by countries in the run up to key climate talks are not enough to keep global temperature rises below dangerous levels, according to a Government source.
By the time the negotiations on a new global climate treaty take place in Paris, countries accounting for around 85% of the world's emissions are likely to have set out the action they will take to tackle global warming, the source said.
But he added that these contributions "will not be enough to put us on track to the most cost-effective path to 2C", which is seen as the threshold beyond which dangerous impacts of climate change will be felt.
It is expected a deal will be done in Paris at the end of the year, though "it is not in the bag", with the UK Government calling for a legally binding treaty as the best hope that countries will live up to their commitments to cut emissions.
There are likely to be sticking points, with countries such as China and India expected to object strongly to any global targets for emissions cuts by 2050, although the deal could pledge to make the world "carbon neutral" in the second half of the century.
There is also likely to be conflict over where the burden of responsibility for tackling climate change lies, and on the issue of financial support for poorer countries to cope with rising temperatures.
The UK wants to see a mechanism to review and ratchet up the measures made by countries to cut their emissions over time – something which will be needed if the world is to meet its commitment to curb temperature rises to 2C but could be disputed.
United Nations figures suggest that to have a 50% chance of sticking to the 2C target agreed by governments, total world emissions would have to be curbed to 47 gigatonnes in 2030, compared to an output of 68 gigatonnes if no action is taken.
The pledges expected to have been made by Paris could put the world on track for emissions of between 52 to 58 gigatonnes, which could lead to temperature rises of 2.5C.
But there is more optimism that the talks in Paris will achieve a deal to tackle climate change than previous attempts, notably Copenhagen in 2009 which was widely seen as a failure, as costs fall and countries are able to make pledges backed up by domestic action on energy efficiency, renewables and clean technology.
The source said that, unlike in the past, "these are policies that are embedded in countries' domestic strategies, which they are taking for other reasons, for example countries don't want to be dependent on imported fossil fuels".
And he said that it was hoped that a deal in Paris, while not being "job done", would send a signal to the private sector that would help drive down costs of clean technology further, making it easier for countries to cut emissions further.
Recommended for you

Window of opportunity to preserve liveable climate rapidly closing, says IPCC