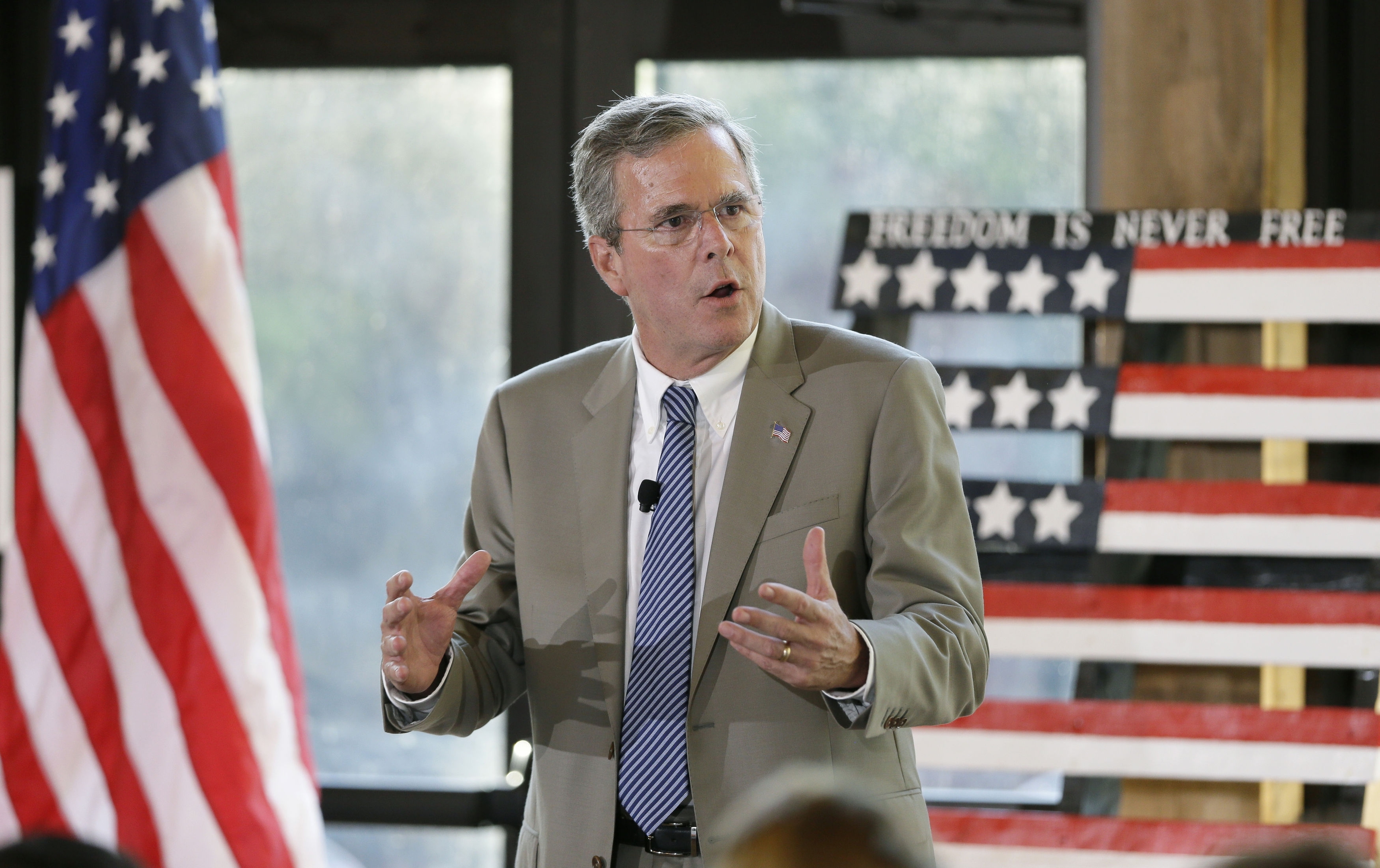 Republican presidential candidate Jeb Bush will unveil a national energy plan next week that is a key part of his pledge to spur 4 percent economic growth.
The plan, which Bush will detail at a natural gas company near Pittsburgh, is the latest roll-out from the former Florida governor as he attempts to sell himself to voters as the policy heavyweight in the field and steer clear of the personal battles that have erupted in the nomination race as Donald Trump has risen in the polls.
Bush's team will give a sneak peak of the plan to donors on Monday, a day before the candidate discusses it publicly, according to an invitation obtained by Bloomberg. On Tuesday, Bush talks about the plan during a campaign event at Rice Energy Inc., a company based about 35 miles outside Pittsburgh that acquires, explores and develops natural gas and oil properties in the Appalachian Basin, said Tim Miller, a Bush campaign spokesman.
If elected, Bush has promised 4 percent economic growth, a rate that hasn't been reached in two decades in the United States. The main engine of his plan to reach that goal is a proposal released earlier this month to reduce taxes by $3.4 trillion over a decade, leaving a net revenue loss of $1.2 trillion. Bush has said he wants to reduce the budget deficit, but not by raising taxes. Instead, he's proposing a combination of immigration reform, regulation policies that he introduced this week, and next week's energy proposal.
"You have to grow the economy at 4 percent, rather than this new normal of 2 percent," Bush said Thursday night on FOX News. "You have to curb entitlement growth and spending and I will lay out concrete plans to do that over the long haul. You could have a version of line item veto power, engaging with Congress and having to limit government spending. If you just cut spending to three percent growth, you could get back in balance really quick."
The meeting with donors on Monday will be with top Bush energy advisers: Marcus Peacock, Jeff Kupfer and Brian Yablonski, according to the invite. The three reflect how the former governor has talked about energy from the campaign trail—boasting of his environmental record in Florida, and promoting fracking as a technological achievement—and suggest where his energy plan may be headed.
Peacock is a technology enthusiast, like Bush. As deputy administrator of then-President George W. Bush's Environmental Protection Agency, he takes credit for being the first federal government official to host a public blog. A colorful writer on the EPA blog, Peacock once pointed to Amy Winehouse—who he described as "incredibly skilled" and "incredibly self- destructive"—as a metaphor for the importance of early intervention. "A good management system," Peacock wrote, according to a Washington Post report in 2008, "forces people to consider how they are doing."
After leaving government, Peacock oversaw Subsidyscope, a Pew Charitable Trusts program aimed at collecting and analyzing data on federal subsidies. (Bush has said he wants to eliminate tax subsidies for the energy sector.) As associate director of natural resource programs in the Office of Management and Budget under Bush, Peacock created the Performance Assessment Rating Tool, which rated the effectiveness of federal programs.
Yablonski ran Bush's policy office after being elected governor in 1998, and was appointed to the Florida Fish and Wildlife Commission during Bush's second term. Bush has spent much of his presidential campaign promoting his record in Florida. While Bush has mostly focused on tax cuts and budget vetoes, he also proudly talks about increasing state funding for Everglades restoration, a project was met with resistance from his brother's administration.
Kupfer, a former Chevron Corp. executive sits on the board of Atlas Energy Group LLC, a Pittsburgh-based oil and gas producer with prospects in Texas, Oklahoma and New Mexico. A master limited partnership, which is a corporate structure that helps reduce tax payments while increasing dividends, the company's price has fallen 75 percent this year, and the outstanding bonds issued by a holding company have a junk rating. Some of the company's debt is trading at distressed levels as investors demand higher compensation for the risk that the obligations won't be repaid.
Kupfer worked at the Department of Energy during the George W. Bush administration as chief of staff and later acting deputy security and chief operations officer. The Yale- and Harvard- educated Pittsburgh native was also executive director of the former president's Advisory Panel on Federal Tax Reform, and deputy chief at the Treasury Department.
Kupfer was also member of former Maryland's commission on hydraulic fracturing under then-Governor Martin O'Malley, now a Democratic presidential candidate. On the campaign trail, Bush has often touted fracking as one of the most important innovations of the new century.
"Applied together, horizontal drilling and hydraulic fracking has created a veritable revolution," Bush said during a January speech in San Francisco. "The problem, I guess, is that this isn't cool on the coast. It's not cool here in San Francisco to talk about this. I don't know, if you walked outside, you might get a protester to talk about this incredible thing that we should be celebrating; or on the east coast, the same thing. It's cool in places like North Dakota and west Texas and south Texas. It's cool because it creates significant economic activity."
The fracking boom has threatened to go bust this year, as a worldwide glut of oil has slashed crude prices, pushing some U.S. drillers to the edge of bankruptcy. Before that, new drilling methods had led to a renaissance for the industry, pushing U.S. production to its highest level in three decades.
Recommended for you
X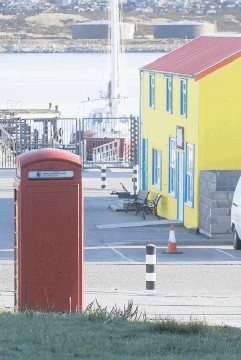 Falkland revised drilling programme after equipment delays