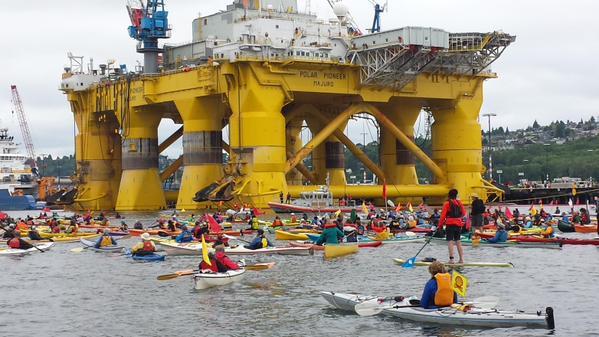 Oil major Shell could still house some of its fleet in Seattle's port despite pulling out of plans for exploratory drilling in Alaska.
The company said last month it would no longer be pursuing Arctic drilling for the foreseeable future after disappointing results from an initial well.
Seattle Mayor Ed Murray said the ruling by deputy hearing examiner Anne Wantanable to clear the way for the possibility of Shell using Terminal 5 for the Polar Pioneer was disappointing.
Wantanabe said the attempt by the city's department of planning and development to require a new land-use permit relied on "inaccurate" characterisations of the work to be done.
The terminal was leaded to Foss Maritime for two years to service the Polar Pioneer oil rig as well as related ships.
Mayor Ed Murray said: "While I am disappointed that the hearing examiner ruled that servicing off-shore drilling rigs is a cargo terminal use, I will respect the ruling. Shell has made a business decision to halt further off-shore oil exploration in Alaska.
"Now is the time for us to come together to collaborate on new projects to support the growth of maritime jobs while protecting our natural environment. I look forward to renewing the City's partnership with the Port, Foss Maritime, our unions and other maritime interests to build a vibrant future for our harbour."
Foss had previously announced it planned to lease part of Terminal 5 to Shell in January.
The ruling by the hearing examiner is not expected to be appealed by the city.
A Shell spokesman said the company was currently demobilising its fleet after a summer of drilling in the Chukchi Sea.
While the Polar Pioneer was in Seattle a number of protests took place by environmentalists opposed to Shell's project.
Testimony heard in the case last month was based around the idea that Foss' activities in Terminal 5 did not meet the definition of a cargo terminal and a narrow definition of cargo, goods and containers.
However both the port and Foss claimed a restriction in definition would change the operation of cargo terminals and "cripple" the Port of Seattle.
A notice of violation which was issued earlier this year will now be retracted.