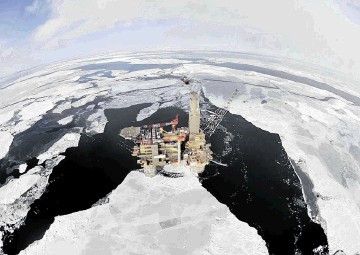 A US Senator has called on the Department of Justice to investigate an alleged fraud by ExxonMobil over what it knew and told the public and shareholders about the cause of climate change.
Senator Bernie Sanders has written to Attorney General Loretta Lynch to ask for a probe into what he alleges as a "potential instance of corporate fraud" by the oil giant.
In his letter the politician refers to reports from an investigation by Inside Climate News, which says that scientists from the company conducted extensive research on climate change as early as the 1970s.
According to the reports, the company's staff found climate change was real and partially cause by carbon pollution from petroleum products.
ExxonMobil has hit back at the claims and said scientists continue to research and publish findings to improve understanding of climate system science as a basis for society's response to climate change.
It added that more than 50 peer-reviewed publications on topics including the global carbon cycle, detection and attribution of climate change, low carbon technologies and analysis of future scenarios for energy and climate.
It said its scientists have been selected by the Intergovernmental Panel on Climate Change, the United Nations' most authoritative body on the subject, as authors of their past four major assessment reports, and have contributed to National Research Council boards and committees on climate change.
The report further claims the company has invested significant amounts of money in think tanks and organisation that question climate change.
In the letter to the Attorney General he said: "Exxon Mobil knew the truth about fossil fuels and climate change and lied to protect their business model at the expense of the planet.
"These reports, if true, raise serious allegations of a misinformation campaign that may have caused public harm similar to the tobacco industry's actions – conduct that led to federal racketeering convictions," Sanders wrote in the letter to the nation's top law enforcement official.
"Based on available public information, it appears that Exxon knew its product was causing harm to the public, and spent millions of dollars to obfuscate the facts in the public discourse. The information that has come to light about Exxon's past activities raises potentially serious concerns that should be investigated."
Recommended for you

ExxonMobil declares force majeure on Russian operations at Sakhalin