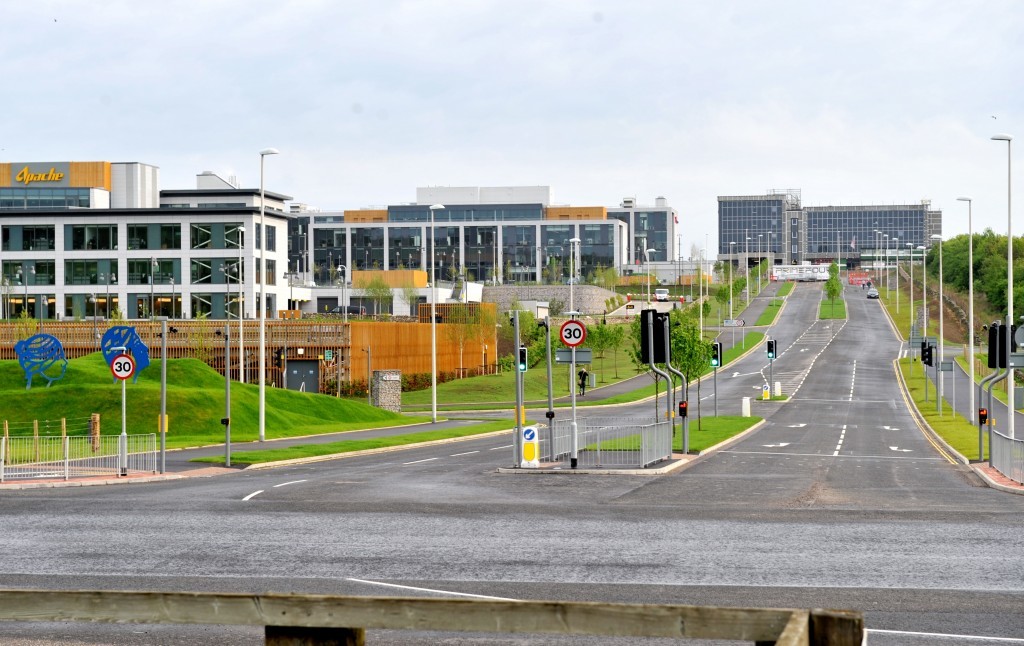 Oil and gas firms in the Aberdeen area could be potentially spending millions of pounds on empty office space no longer being used.
Many companies are legally bound by long-term tenancy leases leaving them tied in to deals with landlords and developers and committed to paying for office space they don't need.
The cost of renting office space is calculated on price per square foot, with industry experts putting the typical price at locations such as Westhill at more than £20 per square foot.
A company with a 100,000sq ft building could have an annual lease in excess of £2million, notwithstanding rates and other running costs.
Dan Smith, a director at property consultancy FG Burnett in Aberdeen, said many oil and gas companies had been hit with the same issue.
He said: "There are companies paying millions for space they don't need. The organisation is legally committed and many are tied into long-term leases.
"They can try to mitigate cash going out the door by looking to sublet, but there is just not the demand. It must be frustrating for those people being laid off to see companies spending money on empty space.
"I have talked to organisations who are doing all they can to reduce costs, but it's a difficult situation."
Typical pre-let deals for prime office space can be as long as 15 years which means companies attempting to exit early can incur hefty exit charges or dilapidation costs.
Smith said new developments were commissioned due to pent up demand for office space in Aberdeen, when there was a chronic shortage. Two years on, and following the oil price crash in November 2014, the situation has been turned on its head.
He added:"In 2013 we calculated there was 1 million sq ft of unsatisfied demand for office space. In 2015 there 1.7 million sq ft of surplus office space available in the Aberdeen area. That is an unprecedented amount."
Figures from the Registers of Scotland, analysed by the Scottish Property Federation (SPF) reveal the value of commercial property transactions in Aberdeen saw a dramatic fall in quarter three of 2015, falling from £201m to £50m quarter on quarter.
Earlier this year, Subsea 7 said it would be vacating its West Campus building and instead said it would "optimise" its other buildings at Westhill as it became more cost conscious.
The move was made after Subsea 7 said it would be reducing its global headcount by 2,500, including jobs from its Aberdeen operations.
Subsea 7 has confirmed it continues to lease the building, which it occupied in 2008.
The company did not confirm how long it has remaining on its lease.
Meanwhile, commercial construction continues apace in the city.
The 12-storey £30m redevelopment of Aberdeen's Capitol Theatre, nearing completion, will deliver 70,000sq ft of office space at the beginning of 2016.
The controversial £107million Marischal Square development and the Silver Fin office block will deliver an additional 300,000sq ft of Grade A real estate between them in 2017.
Smith said: "Most of the new developments you see around town are not built without pre-let agreements or are forward-funded. This means developers can be confident their investment will be covered before work begins on the ground.
"You have to remember that Aberdeen has been outperforming most of the UK for a long time."
In Aberdeen, the fall in commercial deals in the third quarter, led the total value of commercial property sales in Scotland to drop from £963m to £855m, with Edinburgh returning the highest value of sales figures in Scotland, which increased to £277m, up from £231m the previous quarter.
The volume of commercial property transactions increased by 15% from 956 in quarter two in 2015 to 1,107 in quarter three 2015, higher than all other quarterly returns for the last two years bar the post-referendum quarter.
Despite the fall in value, this suggests a continued increase of activity in most local commercial property markets in Scotland, according to the Scottish Property Federation.
David Melhuish, director of the Scottish Property Federation, said: "The fall back in the energy sector in Aberdeen has had an effect on the local property industry along with other industries.
"The first half of this year saw the city's commercial property sales boosted by a small number of large value transactions, but the dramatic drop in value this quarter brings it in line with wider economic trends, and reflects how we would have expected to see the market perform earlier in the year.
"The overall drop in commercial property sales value is a concern, even accounting for the particular influence of the fall in Aberdeen sales."
David Scott, a property partner at law firm Ledingham Chalmers, said the low oil price could be a good time for buyers or renter to negotiate a "good deal".
He said: "Most of the current development deals were done when the oil price was high. People are committed to these projects.
"I do think there will have to be some pretty big concessions from landlords in terms of rental – such as rent free periods on long leases – to get occupancy on new developments.
"Many prospective tenants will not want to make long-term commitments given the state of the oil industry at present. It is is a good time to negotiate a good deal.
"We may also see companies trying to exercise break options or sublet, but the challenge is to find someone prepared to rent at prices that were agreed before the oil price fell.
"Companies with limited cash reserves and high rental costs will find it pretty tough in the months ahead."
Scott was optimistic that prestige developments such as the Capitol, Marshall Square and the Silver Fin, would find tenants.
"I don't want to be too pessimistic. Like the residential market, I think Aberdeen was due for a correction. There is still a lot of activity in the North Sea that requires people to have a presence in Aberdeen. I do not think we will see Aberdeen turning into a complete ghost town."
Recommended for you

More oil rigs and vessels expected in Aberdeen, says Port boss