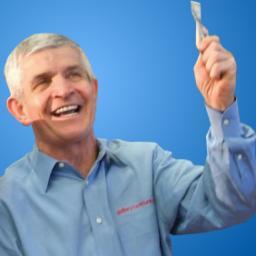 A Houston businessman who dubs himself "Mattress Mack" may have just saved himself $20million – after the oil price failed to peak past $85 by New Year's Eve.
Jim McIngvale, who owns Gallery Furniture in the Texas energy hub, told customers who spent more than $7,000 he would give them all their money back if the oil price rose past his marker by December 31st.
The price of West Texas Intermediate has dropped as low as $36 this month with no signs of a sudden surge.
But it's not the first time the well-known Texan has wagered money with his customers.
In 2014, he paid back a total of $4million to shoppers who bought his furniture after they were guaranteed refunds if the Houston Astros baseball team won 63 games or more.
His most recent bet meant up to $20million of his fortune was at risk – if the price of Texas intermediate rose above $85.
McIngvale said a couple of thousand customers had taken part in the bet throughout 2015.
They would have needed the price of oil to rise to 236% of its current value in order to win their money back.
He said: "I have done things on football games before, where if you bought and your team won you would get a refund.
"This bet was on the price of West Texas Intermediate. Around the time we started it in January, the price was around $60.
"I really wasn't expecting to win, it was really going up mid-year and it hit $65. It looked like a 50-50 proposition."
The enterprising furniture retailer said he's pretty confident the price of oil won't rise as dramatically as $85.
McIngvale said Houston has managed to maintain its economy despite the global decline in oil price since 2014 but many of his friends have experienced job losses.
Earlier this month the Dallas Fed estimated around 70,000 oil industry job losses had occurred in the US since 2014.
He added: "I thought if the oil price rose it would help the economy.
"Houston is not too bad, we have other robust areas but it has been really tough, a lot of my friends have been laid off. We are hoping the price comes up in the coming year but we are still doing well.
"Unless some geopolitical situation happens in the next day or two to push it up, I don't think it will hit $85."
The businessman is known for his unique business ideas and in the late 90s he spent over $100,000 on the "world's tallest Christmas tree" which he set up on his store's parking lot.
His most recent plug might not end on the last day of the year with McIngvale planning a possible follow-up centred around the oil price or another similar commodity for 2016.
He said: "I might do something next year tied to the oil and gas price or another commodity.
"People seem to enjoy the bets, customers think it's a win-win for them and a great bargain because they could get it for free.
"It's been a great promotion for us."
Recommended for you

Oil sheds bulk of invasion-driven gains on SPR sales, virus, Fed