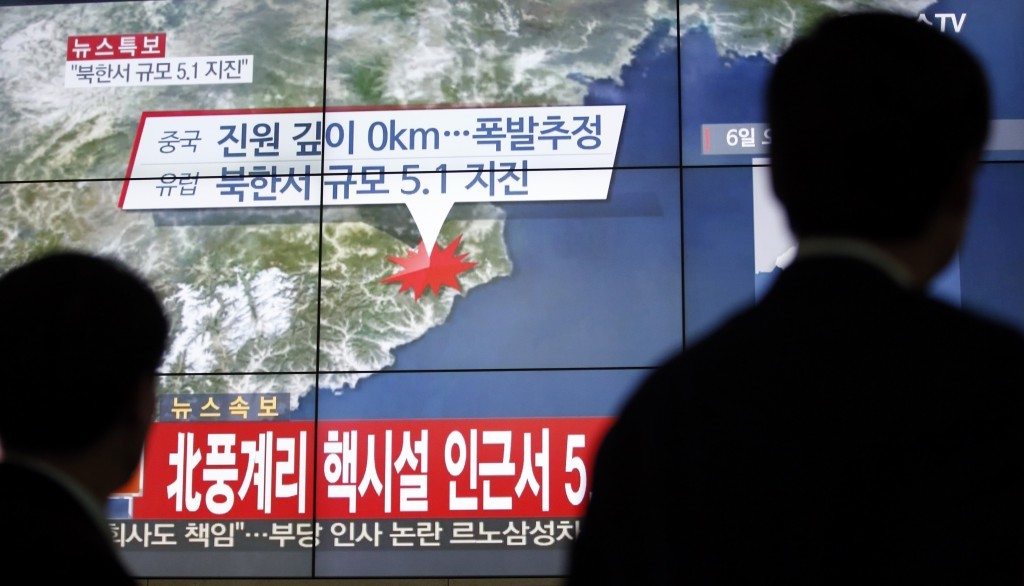 North Korea said it had conducted a powerful hydrogen bomb test, a defiant and surprising move that, if confirmed, would be a huge jump in Pyongyang's quest to improve its nuclear arsenal.
A television anchor said the North had tested a "miniaturised" hydrogen bomb, in a "perfect success", elevating the country's "nuclear might to the next level" and providing it with a weapon to defend against the US and its other enemies.
South Korea's defence ministry said that it was bolstering its security posture in response.
There has long been scepticism by Washington and nuclear experts on past North Korean claims about H-bombs, which are much more powerful, and much more difficult to make, than atomic bombs.
But a confirmed test would be seen as extremely worrying and lead to a strong push for new, tougher sanctions on North Korea at the United Nations. The UN Security Council has tentatively scheduled an emergency meeting.
It would also further worsen already abysmal relations between Pyongyang and its neighbours.
North Korean nuclear tests are worrying because each new blast is seen as pushing North Korea's scientists and engineers closer to their goal of building a bomb small enough to place on a missile that can reach the US mainland.
A successful H-bomb test would be a big step for the North. In a hydrogen bomb, radiation from a nuclear fission explosion sets off a fusion reaction responsible for a powerful blast and radioactivity.
Crowds dressed in thick winter coats gathered outside a large video screen near a Pyongyang railway station to cheer and take video and photos on their mobile phones as the state TV anchor, dressed in a pink traditional Korean hanbok, delivered the statement.
North Korea is thought to have a handful of rudimentary nuclear bombs and has spent decades trying to perfect a multi-stage, long-range missile to eventually carry smaller versions of those bombs.
After several failures, it put its first satellite into space with a long-range rocket launched in December 2012.
Experts say that ballistic missiles and rockets in satellite launches share similar bodies, engines and other technology. The UN called the 2012 launch a banned test of ballistic missile technology.
Some analysts say the North has probably not achieved the technology needed to manufacture a miniaturised warhead that could fit on a long-range missile capable of hitting the US.
But there is a growing debate on just how far the North has advanced in its secretive nuclear and missile programmes.
In the first indication of a possible test, the US Geological Survey measured an earthquake with a magnitude of 5.1.
An official from the Korea Metrological Administration, South Korea's weather agency, said the agency believed the earthquake was caused artificially, based on an analysis of the seismic waves and because it originated 30 miles north of Kilju, where North Korea's main nuclear test site is located. The country conducted all three previous atomic detonations there.
The test is a surprise, both in its purported type and its timing.
North Korea had not conducted an atomic explosion since early 2013, and leader Kim Jong Un did not mention the country's nuclear weapons in his New Year's speech.
For a complete timeline of North Korea's nuclear attempts click here.