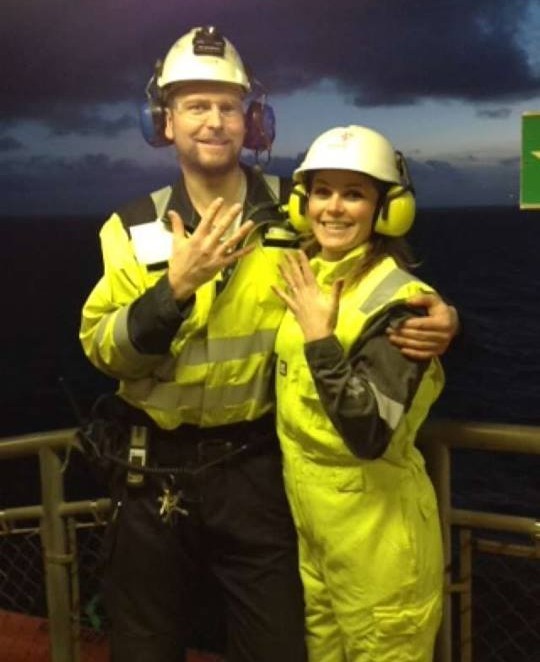 An oil worker started his New Year in the most unexpected way – with a proposal in the middle of the North Sea.
Ole Saupstad Berntsen had been working on Statoil's Statfjord C oil platform when his partner Tone Kvamsdal flew on board to surprise him.
Each year, Statoil holds a draw with two lucky workers winning the chance for their partners to come on board for a few hours to see them over the festive period.
Tone said as soon as she realised she was getting the chance to see Ole she knew she had to propose to her partner.
She had been set to head out on New Year's Eve but bad weather in the North Sea prevented her from doing so.
However, the determined Norwegian asked if she would be able to make the trip on New Year's Day instead.
Luckily her request was approved and the next day she set off to the platform.
Tone arrived to the platform where she disguised herself as Santa before delivering presents to all the workers.
The Statfjord oil field is an enormous oil and gas field covering 580 km2 in the UK-Norwegian boundary of the North Sea at a water depth of 145m.
It was discovered in 1974 by Mobil and since 1987 operated by Statoil.
Ole was given the shock of his life when he opened his present – to see it was two rings.
Tone lifted her disguise to reveal she had in fact came on board the platform, receiving a yes from her partner.
She said the moment was "romantic" and the pair had just enough time to sign their names in a love heart on the platform.
The bad weather meant Tone was forced to return to shore just three hours later.
The couple said they plan to marry in 2017, with their children acting as bridesmaid and pageboy.