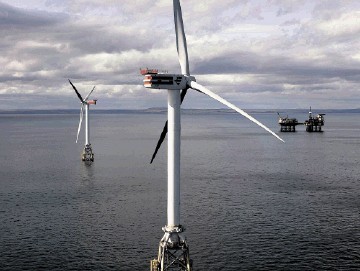 Dong Energy has entered into an agreement to sell 50% of Race Bank, a 573 megawatt (MW) UK offshore wind farm project, to Macquarie European Infrastructure Fund 5 and Macquarie Capital, the principal investment arm of Macquarie Group – with equal interests.
As part of the transaction Dong Energy and Macquarie have agreed a framework for sharing construction risk. Race Bank is currently in advanced stages of construction and is expected to be fully commissioned in 2018.
The total transaction proceeds, consisting of the acquisition of a 50% ownership share and commitment to fund 50% of the project CAPEX including transmission assets, amount to approx. £1.6billion. The proceeds are payable from 2016 until completion of the project, which is expected in 2018 and is funded by a combination of project finance debt and equity.
"I welcome Macquarie as partner on Race Bank. They have successfully invested in infrastructure projects world-wide and have experience in offshore wind from previous investments," said Samuel Leupold, executive vice president and CEO of Wind Power at Dong Energy.
"We have seen a high level of interest from a number of potential investors in Race Bank. This proves that our partnership model continues to be attractive."
Mark Dooley, Head of Energy and Infrastructure, Macquarie Capital Europe added: "We are delighted to partner with DONG Energy on the Race Bank Offshore Wind Farm. Dong Energy is an industry leader and pioneer in offshore wind power development globally. Macquarie Group launched in the UK in 1989 and has since invested £6billion of capital into European renewables – and this further demonstrates our ongoing focus and commitment to the offshore wind sector."
DONG Energy will manage the completion of the construction phase under a construction management agreement. Dong Energy has also entered into an agreement to provide operations and maintenance services from its O&M base in Grimsby and to provide a route to market for the power production and green certificates for Macquarie's 50% share of Race Bank.
Following the 50% divestment of Race Bank, and in combination with other factors, Dong Energy has increased its EBITDA guidance for 2016. Read more here.
The wind farm will be located approximately 16.8 miles off Blakeney Point on the North Norfolk coast and 17.4 miles off the Lincolnshire coast at Chapel St Leonards.
The wind farm will have a capacity of 573MW and will produce enough electricity to power more than 400,000 British households every year.
Recommended for you
X

Another Energy Minister bites the dust