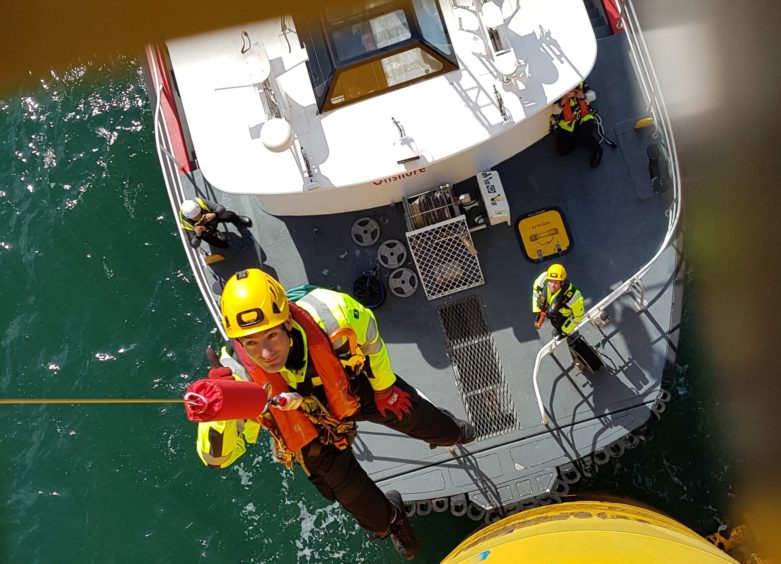 Danish offshore wind developer Orsted has announced the acquisition of a £22.5% stake in a Scottish hoist technology firm based in Fife.
Pict Offshore, a small firm headquartered in Inverkeithing, is understood to have signed a 'multi-million' deal to provide safer access solution for offshore wind turbines.
The firm has a workforce of eight staff.
The new technology allows offshore wind worker to safely step from a moving boat onto a ladder and then climb  to reach the base of the turbine.
The technology is patent-protected and in the final stages of development.
Orsted would not confirm the value of the deal.
Mark Porter, senior vice president for Offshore Operations at Orsted, said: "The offshore wind sector already has a proven track record of innovation and rapid cost reduction, and we're continually looking at new technologies to enhance both the construction and maintenance of our projects.
"This game-changing new technology can provide a more efficient, safe and cost-effective way of transferring technicians onto offshore wind turbines.
"We're excited to be working alongside an innovative small business in Pict Offshore to revolutionise the way our technicians get to work. As the global offshore wind industry continues to grow, the opportunities for this technology are huge."
The development of the Get Up Safe motion compensated lifting system commenced in 2016 and was helped by a Scottish government innovation grant.
Philip Taylor, Managing Director at Pict Offshore, said: "We have hugely benefited from the experience and knowledge of Orsted, the world's largest offshore wind developer. Partnering with them has accelerated our ability to bring this new technology to market.
"The Get Up Safe motion compensated lifting system is an ambitious step forward for the whole offshore wind industry. It completely revolutionises the way technicians get to work, and we're delighted to have reached the final stages of testing. We've also hugely enjoyed working alongside Orsted and seeing first-hand the company's passion for innovation."
Recommended for you
X

BP adds more gas in Senegal