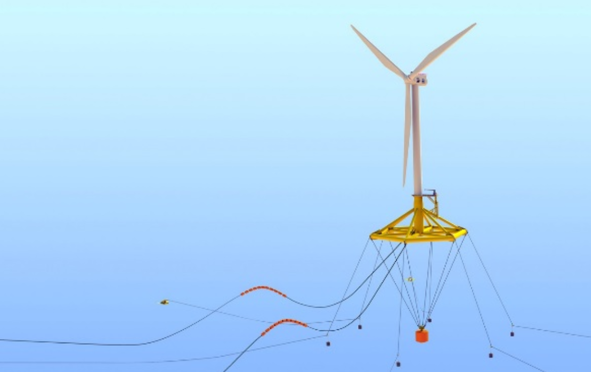 Italian oil and gas contractor Saipem has confirmed that it is "in the process" of patenting its design for an offshore floating wind turbine.
The Offshore Wind Floater Hexafloat is a "cost-effective lightweight pendulum floater" designed for large turbines.
The design is scheduled for testing at the European Marine Energy Centre's (Emec) test site in Ireland before 2022 as part of a more than £27 million four year project.
Saipem revealed that it "has developed and is in the process of patenting the Offshore Wind Floater Hexafloat technology", adding"the prototype will allow Saipem "to obtain conclusive extended operational results that can provide proof of concept".
Its floating solution was first model tested in July 2018
In 2017, Saipem facilitated Equinor's Hywind Scotland floating offshore wind project by lifting the turbines and towers and installing them on floating foundations at a yard in Norway, before their transportation to Scottish waters.
Paolo Formica, the Italian company's offshore area manager for the North Sea, added: "Clearly floating wind is a market we as Saipem are looking at.
"In the UK now, and in Europe generally, there is not any specific project which is based on floating, however, we have already taken concerted action to develop our model ourselves."
In July, Saipem announced it had signed a Memorandum of Understanding (MoU) with Abu Dhabi investment firm Plambeck Emirates to develop and construct the 500 megawatt (MW) project.
Saipem confirmed the initial phases of the project will be undertaken by Plambeck Saudi, a Plambeck subsidiary firm located in Riyadh.
The Italian firm said it will start operations after finalising the financial agreements at the end of the planning phase.
Once an agreement is in place, Saipem will undertake the engineering, design, construction and installation of the entire project.
Recommended for you
X

Nigerian pipeline problems drive hunt for alternatives