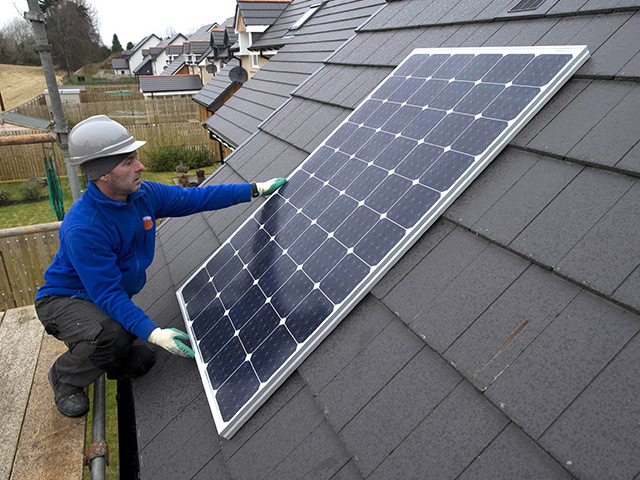 The Scottish solar industry has called on Holyrood to pave the way for an energy transformation in Scotland with the power of the sun playing a key role.
Industry body the Solar Trade Association has presented a "key asks" document that sets out 20 ideas on solar to support the Scottish Government's ambitious plans to meet 100% of electricity demand from renewables by 2020.
Scotland is currently over half way to reaching this target and has over 7.5GW of renewables, of which over 5GW is onshore wind.
The STA said solar can make an important contribution to the rest of the 100% target and provide an essential balance to the mix of renewables in Scotland.
The UK Government has dismayed the renewables sector with reductions in support and cancellation of feed in tariffs.
The Scottish Government has retained support for renewables and last September used its devolved powers within the Renewables Obligation to boost investor confidence in large-scale solar in Scotland.
STA Scotland is proposing that the Scottish Government achieves its renewables targets by putting together a dedicated Solar Action Plan for Scotland and suggests targets for both solar PV and solar thermal for 2020.
The action list also contains specific recommendations on business rates, social housing and community energy, and covers both solar PV electricity and solar thermal hot water heating.
STA Scotland chairman John Forster, said: "There are a number of simple, practical things the Scottish Government can do to boost solar north of the border, whether it is encouraging wind and solar to share grid capacity or changes to planning."
"We are also keen that the Scottish Government look at options to establish its own financial support mechanisms for solar to bridge the gap between now and the early 2020s when we hope to see mainstream solar projects become subsidy-free."
"We are optimistic that the next few years will be good for solar in Scotland. There is scope for Scotland to lead the way within the UK, encouraging markets for solar on residential homes, commercial rooftops, new build homes and buildings and solar farms."
WWF Scotland director Lang Banks said: "Thousands of Scottish homes and businesses are already seeing the benefits of having installed solar panels.
"And, although the total installed solar capacity is small when compared to wind energy, we should remember that collectively these solar panels are helping to prevent thousands of tonnes of climate-damaging emissions being emitted every year.
"Following the global agreement reached at the UN climate talks in Paris last year, alongside energy saving measures, we're going to have to see an even greater uptake of solar and other renewable technologies here and globally.
"That is why, as we approach the Holyrood elections, we'd like to see each of the political parties commit to ensuring Scotland becomes the EU's first fully renewable electricity nation by 2030."
Recommended for you

UK Government announces £20m ring-fenced tidal funding in upcoming CfD