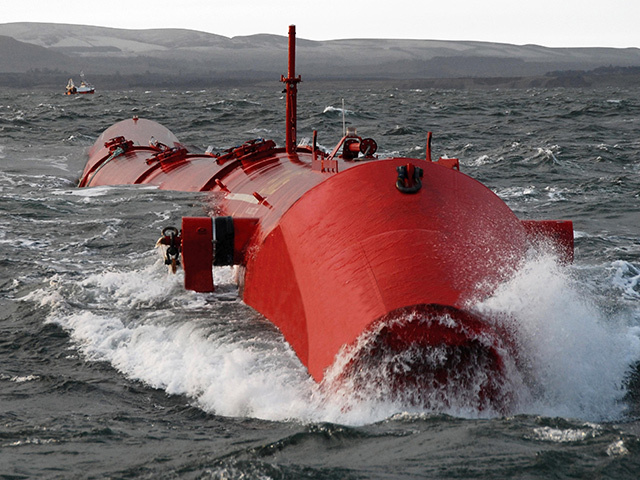 Orkney's European Marine Energy Centre (Emec) is seeking ideas for what to do with its Pelamis wave-energy device.
It is the latest twist in a turbulent history for one of Scotland's best-known green-energy inventions.
Edinburgh-based company Pelamis Wave Power came up with the technology but ended up in administration in 2014, having failed to secure enough funding for research and development (R&D).
Development agency Highlands and Islands Enterprise later struck a deal with administrators at KPMG to acquire intellectual property and physical assets previously owned by Pelamis.
These assets were transferred to a new technology development body, Wave Energy Scotland (WES), funded by the Scottish Government.
Emec ended up buying the Pelamis P2-002 prototype wave-energy converter, which was tested at the centre's Billia Croo facility by ScottishPower Renewables from 2012-2014, and is now "looking at what options exist" to use it.
These could include using the device to test materials or components, or for "other open-sea tests", Lyness-based Emec said yesterday.
Managing director Neil Kermode added: "A lot of learning and experience has already come out of the P2 development and testing programme, with a significant amount of data being analysed by Wave Energy Scotland.
"While it's unfortunate that Pelamis Wave Power is no longer operating, we want to see their legacy live on.
"There will be opportunities to use the P2 device within other R&D programmes.
"We have learnt in 13 years of running a test centre that nobody has perfect sight of all the ideas that are out there, therefore, we're keen to hear from anyone with an idea on how to utilise the technology."
ScottishPower Renewables strategic innovation manager Barry Carruthers said: "With Emec's full-scale testing platform and the momentum created by Wave Energy Scotland, Scotland remains the leader in supporting wave-energy development.
"It is important to build on the investment and experience to date to support the next phase of the wave-energy industry."
The P2-002 device comprises five sections, 13 feet wide and weighing a total of 1,350tonnes, which laid end-to-end measure nearly 200 yards. WES own the other P2 Pelamis machine, the P2-001.
To date, more marine-energy converters have been deployed in Orkney than at any other single site in the world.
Emec has hosted 16 wave and tidal-energy clients, with 25 devices, spanning nine countries.
Recommended for you

TotalEnergies to bid in Scottish offshore wind process