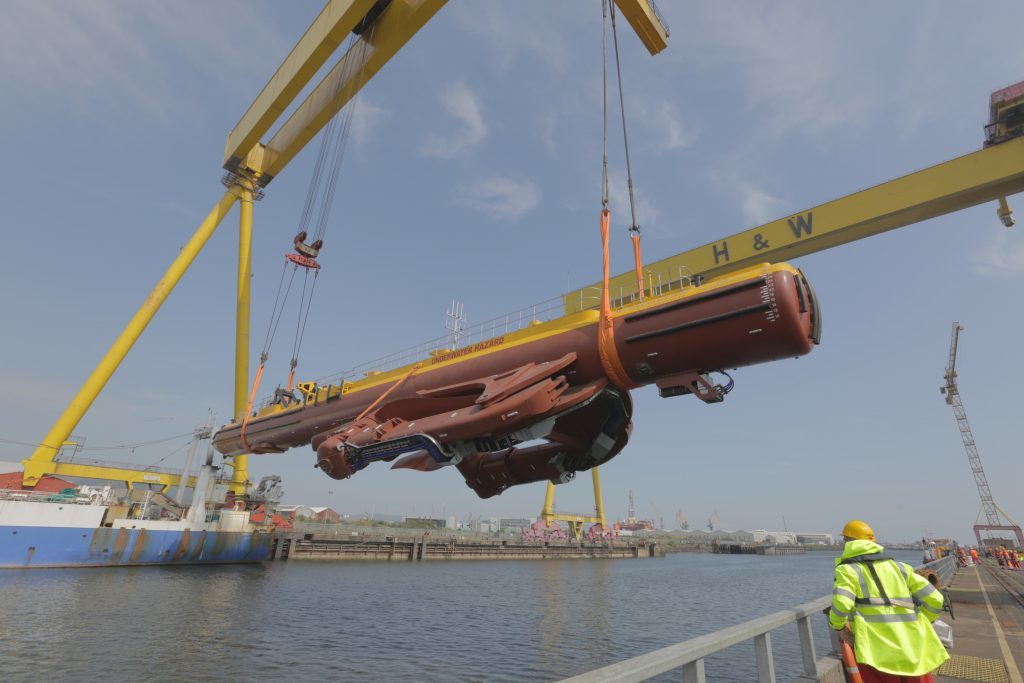 Scotland's energy minister has hailed Scotrenewables Tidal Power's giant turbine as a "game changer" as it gears up for testing in Orkney.
At 206ft, the SR2000 is longer than Edinburgh's Scott Monument and can generate 2MW of power − enough to meet the needs of about 1,000 homes for a year.
The unit is undergoing final commissioning checks ahead of being connected to its mooring system at the European Marine Energy Centre's test site in Orkney.
During today's visit to Orkney, Energy Minister Paul Wheelhouse will say: "Scotland's capacity to generate tidal power is considerable and this device has the potential to be a real game changer for the industry, not only here in Scotland, but across the world.
"Floating technology like this is likely to be easy and cheap to install, maintain and decommission. This will increase the commercial viability of tidal energy, which is crucial as we continue to transition towards a low carbon economy."
Andrew Scott, CEO of Scotrenewables, said: "The Scottish Government has been consistent in its vision and support for the marine renewables sector and that has been vital in getting a second generation technology like ours to this stage, and it is great to have the Minister come to see and hear about the exciting opportunities we're aiming to create.
"It's obviously a critical phase in the project but we're looking forward to the test programme and providing clear evidence of the significant advantages our technology can bring to the sector whilst offering a step reduction in costs."
Scotrenewables, which employs 25 people in Orkney and Edinburgh, has been developing tidal technology since it was founded in 2002.
The SR2000, the world's largest tidal turbine, was launched from the Harland & Wolff shipyard, Belfast, in May before being towed to Orkney.
Since arriving in Orkney waters the 500 tonne machine has undergone a series of successful tow trials.
Recommended for you

World's most powerful tidal turbine to be launched in Dundee next week