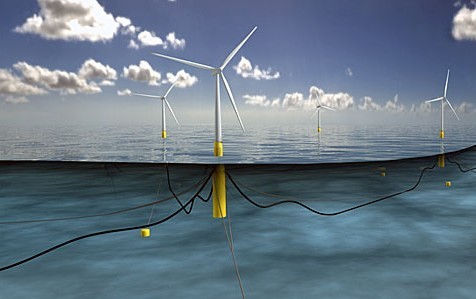 Norwegian operator Statoil has agreed to divest 25% of its assets in Hywind Scotland pilot park to Masdar.
The windfarm offshore Peterhead in Aberdeenshire will be able to power approximately 20,000 households when in production from late 2017.
As part of the transaction the two companies have agreed to share the development risk and Masdat will cover a quarter of both previous and future costs.
Following the divestment Statoil will hold a 75% share in Hywind Scotland.
Irene Rummelhoff, Statoil's executive vice president for New Energy Solutions, said:"The Hywind Scotland pilot park has the potential to open attractive new markets for renewable energy production worldwide.
"With Masdar onboard as a strong strategic partner we are teaming up with a company with high ambitions within renewable energy. We believe Masdar can be a strong partner also in future Hywind projects and we hope that our collaboration will result in future value creation opportunities for both parties.
"We expect floating offshore wind farms to benefit from the general cost development within the offshore wind segment. The objective of the Hywind Scotland pilot park is to demonstrate cost efficient and low risk solutions for future commercial scale floating wind farms.
"This will further increase the global market potential for offshore wind energy, contributing to realising Statoil's ambition of profitable growth in renewable energy and other low-carbon solutions."
Recommended for you

Kishorn Port unveils offshore wind 'masterplan'