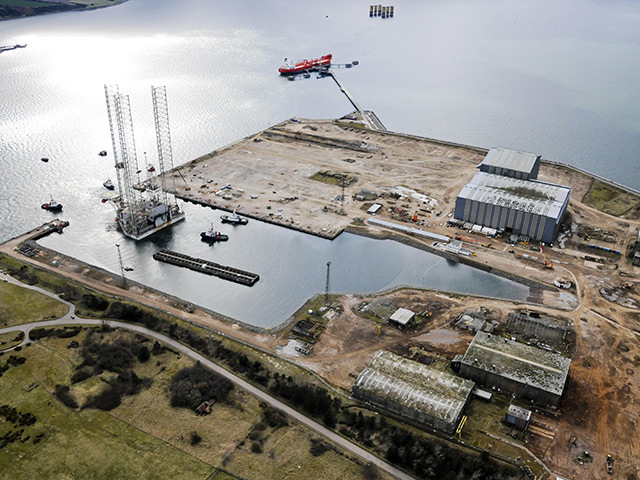 A jobs boom could see 300 jobs created at Nigg Energy Park in the Cromarty Firth if ambitious plans to diversify from the oil and gas industry to offshore renewables are given the green light.
Global Energy aims to expand the oil fabrication yard to enable it to deal with massive 100-metre steel towers for windfarms.
The Inverness-based firm want to change the use of its land to manufacture and store fabricated products for the renewables sector. It also wants to construct a blast and paint base.
The proposals, recommended for approval by planning officials, have been given a cautious welcome by north politicians who hope it will see a reversal of fortunes at Nigg, which has suffered a recent decline in workforce numbers.
Local MSP Gail Ross said: "While I am pleased to see investment into Easter Ross, which could lead to an increase in business at Nigg, I am keen to hear from Global as to the workforce that they are proposing to introduce here.
"Many of my constituents have been made redundant or unemployed recently from Nigg and I would hope that any new production would ensure that these people can regain meaningful and secure employment."
Highland Council SNP leader Maxine Smith, whose constituency includes the plant, said: "Everyone locally will be looking forward to getting more consistent work at Nigg. From that perspective the news is welcome.
"However, we've been here before where investment is announced and it never actually happens. I'm trying to remain positive and hope the work will follow soon.
"Easter Ross needs a jobs boost where people can rely on permanent work, rather than bust and boom, which is depressing for people to live with. We want rid of the uncertainty."
Local MP Jamie Stone said: "I welcome this news. As someone who worked at Nigg in the past, I know just how important the yard is to the local economy."
Meanwhile, north economist Tony Mackay said: "A revitalised Nigg would be excellent news for the local economy, but Global will find it tough to win the contracts."
He added: "Nigg has won very little work from the North Sea oil and gas industry recently, so diversification into offshore wind farms is a sensible strategy. There are a few more offshore wind farms planned for Scottish waters over the next few years.
"However, it is an increasingly competitive market. In Scotland one of the main competitors is Burntisland Fabrications. There is also strong competition from foreign yards."
Global's communications director Alastair Kennedy said: "I think there is a general understanding of us requiring to look ahead and prepare Nigg Energy Park for any future potential business. Our discussions with interested parties are progressing."
The proposals will be considered next week by the council's north planning committee.
The application seeks permission for the expansion of the yard to provide additional accommodation and facilities to allow it to diversify in line with emerging renewable energy infrastructure.
If approved, it will also house a blast and paint base to allow for steel plates to be fabricated for offshore wind turbine components.
A report to councillors said: "The development is expected to create approximately 300 jobs within the local area. This could increase in future, dependant on demand. Construction jobs will also be created while the facility is being built."​
Recommended for you

Ardersier lands £300m private equity investment for offshore wind transformation