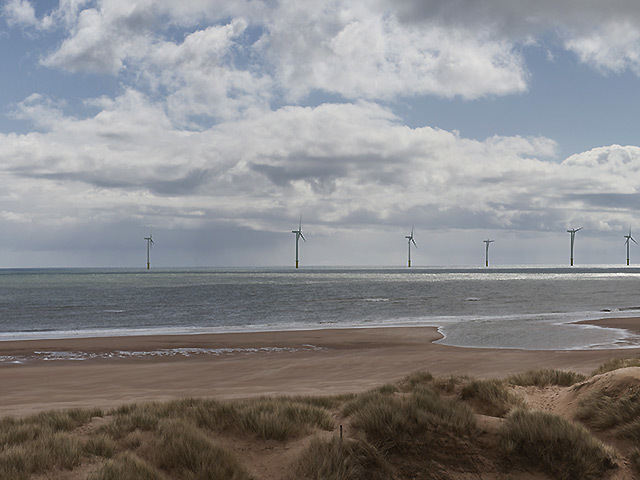 Everyone knows that when you cut Aberdeen it bleeds energy, but that doesn't mean the imminent arrival of the world's most powerful windfarm just off the coastline of Aberdeen hasn't been a long time coming for Morag McCorkindale and Jean Morrison.
For Ms McCorkindale, a member of Aberdeen City Council and the Aberdeen Renewable Energy Group (AREG), and Ms Morrison, as chair of the organisation, the realisation of that dream, in the form of Vattenfall's European Offshore Wind Deployment Centre (EOWDC), is clear cause for celebration.
Yet it hasn't all been plain sailing since AREG began in 2003.
"When I first started this job it was a fairly lonely business travelling the country trying to sell Aberdeen," says Ms McCorkindale.
"People said that there was nothing for the oil and gas industry in offshore wind and there never would be any wind development off the coast of Aberdeen.
"I see the new development as a tribute to north-east Scotland as a place to do business in offshore wind. We knew the industry was much more diverse than people thought. There was a structured plan to position Aberdeen city and shire to be able to get the message out globally about the capability of the renewables industry."
AREG and the city council have been fighting this 'perception battle' since the start of the century, when they first gained the support of Shell and BP to commission a feasibility study, the ball then passed to Amec who took the research a significant step further before Vattenfall took over.
Ms Morrison said: "Aberdeen Offshore Wind Farm (the Vattenfall subsidiary set up to develop EOWDC) is obviously AREG's biggest success to date as it's taken a long, long time to get here and will create many jobs.
"But AREG has also managed to grow a membership of 150 since we started, many of which are not traditional renewables companies, they're oil and gas firms we've brought over."
Ms McCorkindale sees the windfarm as simply another extension of Aberdeen's great pedigree in the sector – the next step for energy and the next step for the city.
EOWDC will also serve as a deployment centre looking to bring offshore wind into the next phase.
"Offshore wind is in the mature phase, now we're trying to make it work better", says Ms McCorkindale.
"In recognition of that we submitted a grant application to the European Commission and secured 40million euros. The improvements that the wind deployment centre will achieve will enable the next round of really big windfarms of the future."
AREG has been running for only a few years longer than it's taken to get the windfarm and deployment centre off the ground.
The battle to have renewable energy taken seriously in Aberdeen has taken much longer, but it's a battle that neither woman has shied away from.
Ms Morrison said: "When we first came up with the idea of an offshore windfarm [off Aberdeen], AREG had 18 members, the most prominent from the offshore oil and gas industry."
"Some thought the water was too deep", says Ms McCorkindale. "We thought we couldn't do offshore wind, so I decided to check.
"I got the charts for the north-east coast of Scotland and myself and the development manager from AMEC went along and said 'well what d'ya know?', there was a 10 metre strip of shallow water running up the Aberdeen coast.
"It shows what can be achieved through co-operation."
With a sizable number of the AREG membership now coming from the traditional oil and gas sector there's a fine pedigree of different energy forms working and sharing knowledge and technology.
However, over the last few years there's been a noticeable increase in traditional energy firms moving directly into the renewables sector, such as Statoil with the floating Hywind project and more recently Aker Solutions' foray into similar technology.
"There are a lot of companies in the north-east of Scotland who've always been interested in renewables and some of them have become very successful, gaining big contracts," said Ms McCorkindale.
"We're definitely seeing an increase in interest from key stakeholders from the oil and gas industry in offshore wind in particular, but also wave and tidal.
"There are now clear nominated projects and developers.
"Offshore wind in Scotland has become its own industry."
Keeping the renewable energy fires burning in the north-east has been no easy task for Ms McCorkindale and Ms Morrison, yet they have a real sense that the next stage will really see the fruits of their labour come to blossom."It's interesting that we've got two floating windfarms off the north-east coast" says McCorkindale finally.
"This is the next big step for offshore wind.
"With these deployment centres we've got a really exciting signal that we're looking at the third phase of Scottish offshore wind development."
Recommended for you

Agent General of Western Australia to learn from Aberdeen's energy transition