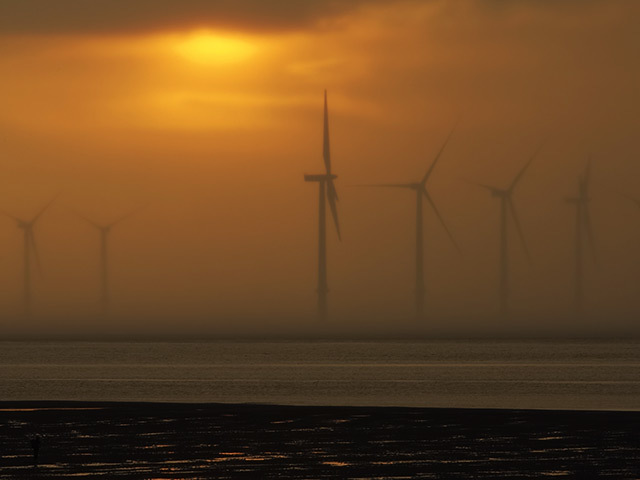 Today's announcement by the Crown Estate claiming eight application extension requests from UK wind developers shows a 'huge appetite to invest', said the chief of RenewablesUK.
Director of the trade body, Emma Pinchbeck, said applications to extend existing offshore wind farms by a total of 3 gigawatts (GW) capacity could "create thousands of jobs" while also providing cheap power.
The Crown Estate confirmed today that it has received eight applications to extend capacity since February 2017 for wind farms off England and Wales.
In a statement it said it would now "embark on the process of assessment of the applications" and due to the number of applications "will also consider the need for a plan level Habitats Regulations Assessment (HRA)".
Though the Crown Estate would not be drawn down on which wind developments were subject to assessment it did say that "successful applications could be converted to option agreements" by summer 2019.
Ms Pinchbeck said:"Today's announcement shows that there is huge appetite to invest in new offshore wind in the UK, which could create thousands of jobs and provide cheap power for consumers.
"This new capacity could help deliver the industry's vision for offshore wind as the backbone of a clean, reliable and affordable energy system."
There is currently 7.1GW of operational offshore wind capacity in the UK, with a further 2.6GW under construction and a further 3.6GW that will be built out by 2024.
Will Apps, head of energy development at The Crown Estate said: "Extension projects have the potential to make an important contribution to the UK's offshore wind pipeline, in line with the sector's growing ambitions and in advance of potential new leasing. Over the coming months we will work closely with the successful applicants and our stakeholders to ensure careful consideration of environmental impacts and existing seabed users interests, ahead of any award of rights."
Recommended for you

INTOG wind leasing round opens as Crown Estate backs North Sea decarbonisation