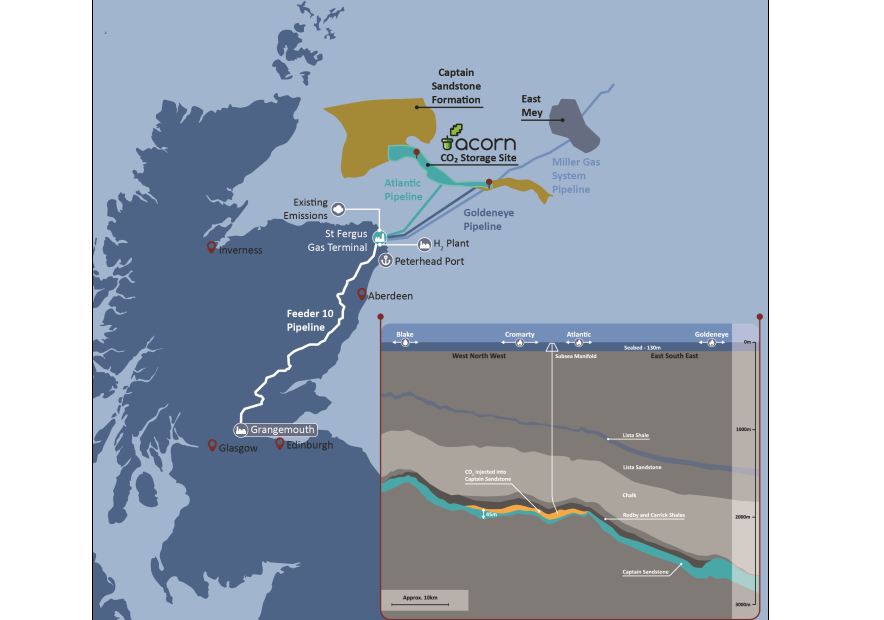 A "major milestone" has been reached in the development of a pioneering clean energy project at the St Fergus gas terminal in Aberdeenshire.
Crown Estate Scotland, the body which manages the seabed, has granted its first ever lease agreement for carbon dioxide storage.
The Acorn carbon capture and storage (CCS) project at St Fergus, near Peterhead, is designed to take advantage of existing oil and gas assets to deliver large-scale CO2 storage in the central North Sea.
The UK Government, which scrapped a £1bn fund to develop another CCS project in Peterhead in 2015, has since acknowledged CCS is crucial for meeting climate change targets.
Crown Estate Scotland, which was established last year, said the lease option is a precursor to a full lease and signals its commitment to developing the technology.
It comes as Pale Blue Dot, the firm behind Acorn, waits for the government to this week outline its plans to develop the technology at a major conference in Edinburgh.
A taskforce earlier this year highlighted the St Fergus project as having "unique potential" to scale-up CCS due to existing oil and gas infrastructure and its proximity to Peterhead harbour.
Alan James, managing director of Pale Blue Dot Energy and Acorn CCS project leader, said: "Securing this lease option from Crown Estate Scotland is a really important step to help us develop one of the UK's first CO2 transportation and storage networks.
"Through Acorn CCS, Scotland can use legacy oil and gas assets to deliver environmental benefits, unlocking CO2 transportation and storage solutions for other carbon capture utilisation and storage (CCUS) projects along the east coast of the UK."
CCS is a process which captures large quantities of carbon emissions and stores it underground, before it is released into the atmosphere.
The rock formations of the central North Sea have been recognised internationally for their CO2 storage potential.
It is estimated region could hold 75% of the UK's CO2 emissions when coupled with carbon capture infrastructure.
Colin Palmer, head of marine at Crown Estate Scotland, said: "This is a major milestone for the both the industry and Crown Estate Scotland.
"Making sure that Scotland can use our natural resources to host this type of cutting-edge technology is something we're very proud to be a part of.
"We look forward to working with industry and Government to help unlock the potential of this area."