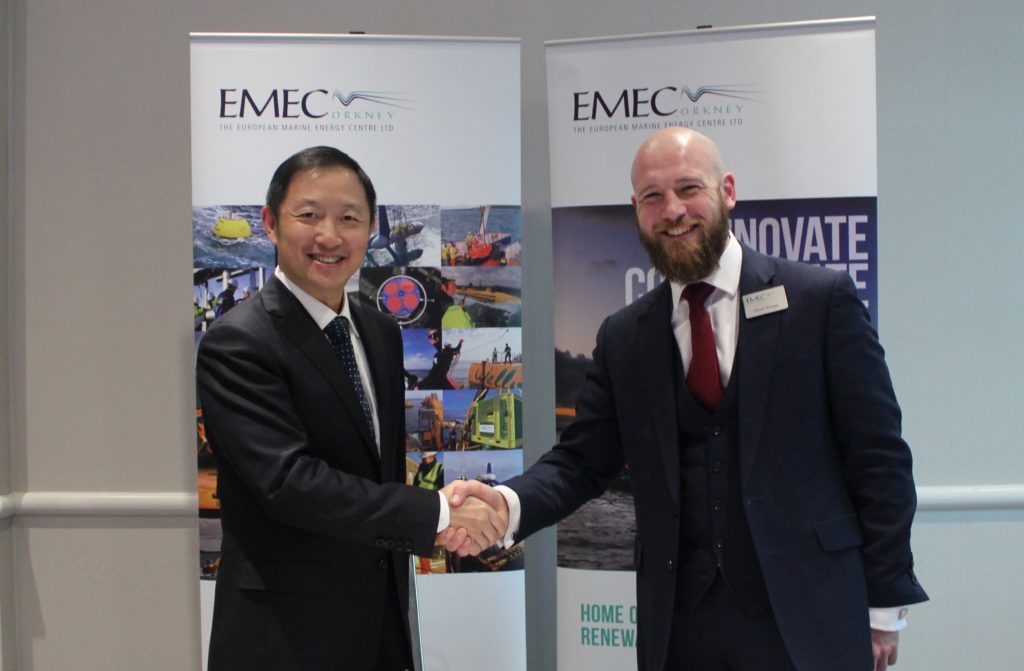 Orkney's European Marine Energy Centre (EMEC) has revealed it will support the development of the first wave and tidal test centre in China.
The Qingdao Pilot National Laboratory for Marine Science and Technology (QNLM) is located in China's Shandong Provence.
The "world-leading" test area for marine energy converters will be created using EMEC's 15 years of experience in the sector.
Scheduled to be in operation by 2020, the centre will have two offshore sites – one for wave and one for tidal – sharing one onshore substation.
EMEC said it had been working alongside QNLM for several years to provide guidance on the project.
Oliver Wragg, Commercial Director at EMEC, explained: "This is a big deal for EMEC, but also for the marine sectors in China and Europe. The marine energy opportunity is a global one, and we're ready to work with anyone who is serious about making it happen.
"Since 2003, EMEC have welcomed 32 devices from 20 companies from 11 different countries to test at our centre in Orkney; this has allowed us to build a model that China's test centre can learn from and emulate in setting up their own marine energy test site.
"We've been met with a real appetite from China to learn from the experience we've gained, and we're keen to continue building collaborative R&D and innovation links between the UK and China to help drive the development of ocean energy on a global scale."
EMEC will provide support with the design and technical specifications for the test centre, including subsea cables, connectors, substation and microgrid, as well as guidance on the data acquisition system to enable integrated environmental monitoring at the test site.
Scottish energy minister Paul Wheelhouse added: "EMEC is a globally acknowledged leader in its field and has had a significant positive impact on the local, Scottish and UK economies. I welcome EMEC's diversification activity and willingness to engage with a wide range of partners, including the Qingdao Pilot National Laboratory.
"The marine energy industry has taken momentous steps forward in recent years, and the Scottish Government are proud to have supported that through a number of initiatives, including the recent announcement of £10 million of available funding through our Saltire Tidal Energy Challenge Fund.
"Scotland has world-leading strengths in wave and tidal energy and we know that there is a global demand for these technologies. We look forward to continue working with EMEC to help realise the economic and environmental benefits of marine energy for both Scotland and partners around the world."
Recommended for you

TotalEnergies consortium confirms ScotWind bid for Orkney and Caithness project