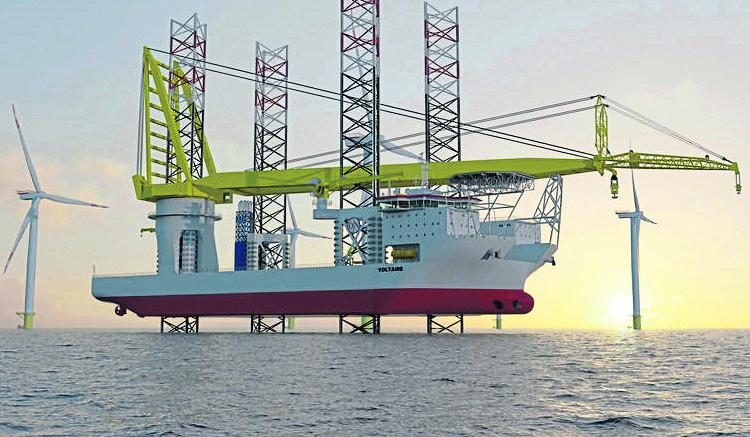 Scour the marketplace and it is becoming increasingly hard to find new tonnage being built for offshore oil and gas services.
This is in part due to the late-2014 through 2017 oil price slump that resulted in a sizeable number of new-build orders being cancelled or postponed – and many existing vessels being laid up long-term or sent for scrap.
Even today, there is an oversupply of service vessel tonnage, especially in the North Sea, where there is pressure for further scrapping.
So any new ships being ordered or delivered currently are for offshore wind work, but can switch to oil and gas if suitable opportunities arise.
The latest order of note – a jack-up installation vessel – has been placed by Jan De Nul Group of Luxembourg at Cosco Shipping Heavy Industry in China with delivery set for 2022.
With a crane capacity of more than 3,000 tonnes, the Voltaire will be able to install the new generation mega-size wind turbines.
These turbines can be more than 270m high, be fitted with 120m blades and require much larger foundation structures than anything built to date.
Current vessels are finding it increasingly hard to instal these types of turbines due to their sizes and installation heights, and the ever-increasing foundation dimensions.
Voltaire, the company's third jack-up, has also been designed with the oil and gas market in mind, including decommissioning work.
Voltaire is specifically designed to transport, lift and install offshore wind turbines, transition pieces and foundations.
The DP2 class vessel will be able to deploy its legs in water depths to 80m and carry a payload of about 14,000 tonnes.
Compared to Jan De Nul's two other jack-up vessels, the Vole au vent and the Taillevent, this new vessel has almost double the deck space.
Philippe Hutse, offshore director at Jan De Nul said: "This investment is a logical step forward in the development of our offshore wind capacities.
"The third jack-up vessel will enable us to cope with our increased number of offshore wind projects worldwide. In addition, we recognise the global trend towards larger wind turbines for increased green energy demands."
Among projects currently on the company's books is construction of the 224MW Northwester 2 wind farm offshore Belgium, which will feature the world's largest offshore wind turbines now available – MHI Vestas 9.5MW machines with a rotor diameter of 164m.
Staying with MHI Vestas, a new service operations vessel just launched by Zamakona Shipyards in Spain should be ready for delivery in August to owner Esvagt, on schedule to start a 15-year contract with the Danish turbine builder.
The Esvagt Albert Betz SOV is 58.5m long and has a beam of 16.6m. It is being fitted with an SMST walk-to-work gangway system in a bespoke tower and with a crane.
Together with a pair of safe transfer boats, this will enable service technicians to access turbines, together with tools and spare parts as required.
Esvagt's latest ship will support the 252MW Deutsche Bucht (DeBu) offshore wind farm in the German North Sea for which MHI Vestas will provide 31 V164 8.0MW turbines and associated maintenance and repair services.
Recommended for you

ONE-Dyas sanctions £450m North Sea gas field powered by wind energy