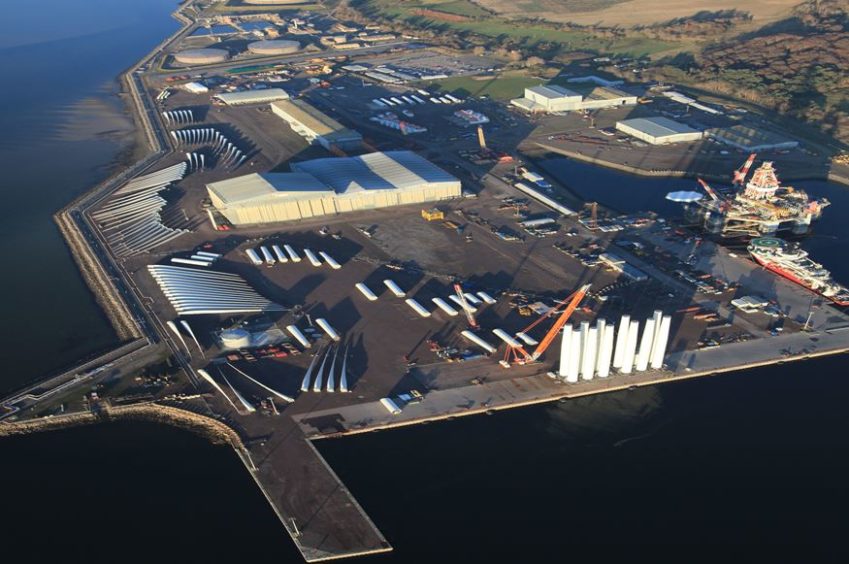 A Highland energy boss last night hailed the agreement of a £12 million deal with a giant Moray Firth offshore wind project as "a real statement of confidence" in the Scottish renewables sector.
Roy MacGregor said his firm, Global Energy Group (Geg), wanted to continue creating local jobs in the sector as his firm celebrated a new multi-million contract with the Moray East Offshore Wind Farm project.
Geg's Port of Nigg will be the location of a new 'staging port' for 103 completed jacket structures before their transportation out to the Moray Firth site.
The new contract, agreed with Moray East contractor Deme Offshore, could also see the creation of around 90 jobs as the site takes receipt of the 100 turbine jackets and three substations.
It is the third such deal since Geg launched its £90m investment programme at the site in 2011 and follows similar work done on the newly-completed 84-turbine Beatrice Offshore Windfarm.
Work on the 950 megawatt (MW) project is due to kick off at Nigg in December.
Global's chairman, Roy MacGregor said: "This is a major and significant contract that really establishes Nigg after the success of finishing the Beatrice contract well ahead of time.
"Global now have great experience in this work and this will further establish the Port of Nigg's position as an important staging port supporting the offshore wind industry.
"This is a real statement of confidence for the Scottish renewable industry."
Granted consent in 2014, the 100-turbine wind farm will be built in partnership between four foreign wind developers.
The project is 33.3% owned by EDP Renewables, Mistubishi subsidiary DGE holds 33.4%, French firm Engie holds 23.3% and the remaining 10% stake is owned by China Three Gorges.
Marcel Sunier, project director for Moray East said:"The selection of Nigg as the staging port for the massive 'jackets' – the oil-rig-like foundations on which the turbines and offshore substations will be installed comes after extensive engagement with the local supply chain and capitalises on the strengths of a history of offshore engineering."
Recommended for you

Over 100 jobs secured at Nigg as Global Port Services lands Seagreen contracts