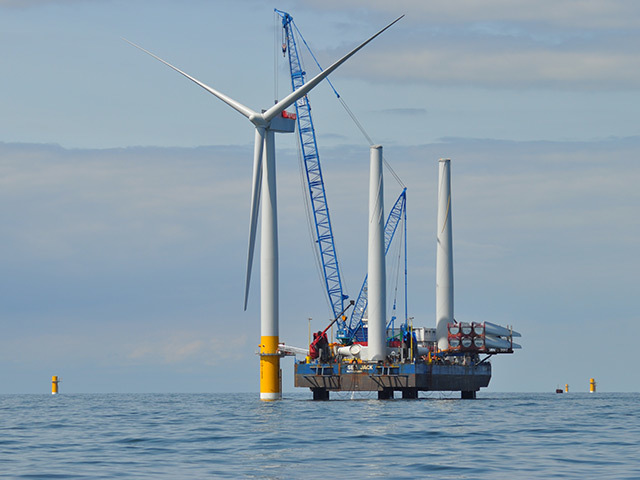 The boss of Mainstream Renewable Power (MRP) said yesterday that his firm could return for more offshore wind acreage in the Scottish North Sea.
Andy Kinsella, chief executive of MRP, said the wind developer was "looking" at the next Scottish leasing round, but said he needed a clearer understanding of the current rules.
MRP last week agreed a new joint venture with oil firm Eni, which will see them compete in UK's Offshore Wind Round 4.
But Mr Kinsella could not confirm is the Italian multi-national would join them in any future Scottish venture.
He said: "The emphasis looks like it will be different in Scotland than the rest of the UK, where the emphasis appears to be more about the supply chain and creating jobs."
Mr Kinsella said he would need to look at the options to see if Mainstream "would need or would not need partners" to compete in Scotland.
Details of the next ScotWind leasing round have been pushed back to late 2019.
MRP opened a new Edinburgh office in Q1 2019.
Mr Kinsella described last week's deal with Italian firm Eni as a "natural fit" for MRP, adding that they had committed to participating the next UK round.
The new partnership with Eni will allow MRP to comply with new rules for the UK round, with companies needing to hold balance sheets of £600 million over three years.
Mr Kinsella said: "We found ourselves in a position where to continue to play in UK offshore we needed a balance sheet partner and where do you find those? – it's either in big utilities or oil and gas.
"We've already seen big European oil and gas firms like Equinor, Shell and BP make their move into wind.
"Eni had announced recently that they wanted to take ownership of 5GW of renewables by 2025, so they're making a reasonable commitment to building up a portfolio.
"And if you want to do it at scale offshore wind is really the only way to do it."
Following the development of Greater Gabbard under it's former guise of Airtricity, MRP also developed two of the biggest consented wind farms in the world with Hornsea One and Two before the firm flipped them to Orsted in 2015.
The £2 billion Neart Na Goethe (NnG) project was also developed by MRP and should reach financial close with EDF Renewables in the next couple of months.
"That gives us just under 4GW developed either built or reaching financial close in UK waters.
"No one has developed more in UK waters than we have."
MRP has raised more than £1.6bn in project finance to date and employs 240 staff around the world.
Alongside plans to develop offshore wind in Africa and Southeast Asia, Mr Kinsella said his firm would be "very well prepared" going into any future Scottish round.
He added: "We have a team very familiar with Scotland and are based in Scotland so hopefully that puts us in a position to win something of significance in the upcoming ScotWind round."
Recommended for you

Gigawaters #1: Sea of opportunity