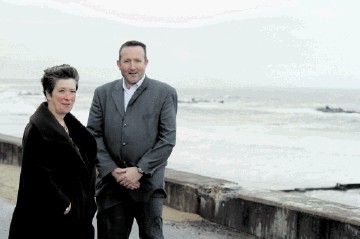 BILLIONAIRE Donald Trump must not have a veto on Aberdeen's economic development, a Labour politician said last night.
North-east MSP Lewis Macdonald is supporting a planned offshore windfarm which the American developer claims will ruin the Aberdeenshire coastline where he is building a luxury golf development.
The European Offshore Wind Deployment Centre wants to spend £150million for 11 turbines off Aberdeen Bay.
Mr Trump claims he was promised by the Scottish Government that there would be no windfarm off the coast when he first proposed his golf course at the Menie Estate, near Balmedie.
He has written to First Minister Alex Salmond insisting he is "fighting for the benefit of Scotland" by objecting to plans for the windfarm.
Mr Macdonald, Labour's infrastructure spokesman, said Mr Salmond had a clear choice to back green energy and green jobs or allow a "rich and powerful tycoon" to control the planning process.
He said: "When it comes to the Aberdeen Bay application, there is a clear right choice and a clear wrong choice. The European Offshore Wind Deployment Centre simply must proceed.
"Mr Trump has no particular locus on this planning application and he does not have a veto on the future of Aberdeen's economy.
"This project will cement Scotland's position as a European leader of offshore energy. That is why this scheme has caught the attention of the EU and we have won funding for it.
"The north-east will be an oil and gas region for many years to come, but we have to start the long-term transition to offshore renewables now.
"Of course the north-east looks to golf and to tourism, but above all else we look to energy and the prize for getting this decision right is immeasurable."
Meanwhile, a series of public consultation events held across the north-east this month came to a closeyesterday.
As the deadline for public comments on the project arrived, developer Vattenfall said it hoped to become "good neighbours" with Mr Trump.
Project spokesman David Rodger: "We have been very encouraged by the broadly positive feedback we have received. We wouldn't wish to comment on anyone's views at this stage. We wish to be very good neighbours with his (Donald Trump's) project, though. We want to see a way forward where we can work together – that's something we've always said."
A spokesman for Mr Salmond said: "Lewis Macdonald is guilty of the most astonishing hypocrisy.
"Mr Trump's claim of 'repeated assurances' about the offshore wind turbines refers to the position five years ago, when he was submitting his Menie planning application in 2006 — when Mr Macdonald was a minister in the former Labour/Liberal executive.
"Under the present administration, the Menie application was determined properly, according to Scotland's planning law and procedures, and it will be exactly the same for the offshore wind turbine proposal."