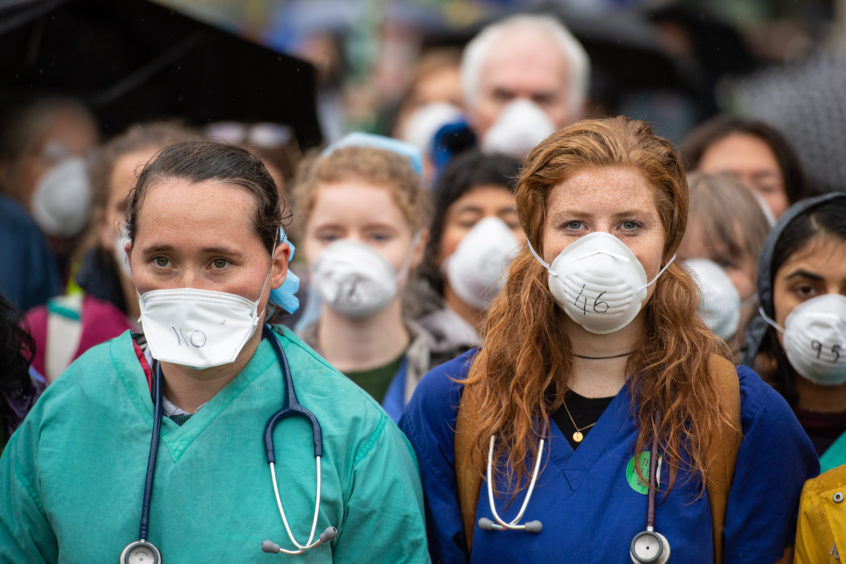 Business and political leaders from across England will launch a joint declaration to clean up air pollution as a national priority in a bid to "stop people dying needlessly".
Some 22 signatories, including Mayor of London Sadiq Khan, are calling for the Government to commit to World Health Organisation (WHO) air quality standards in the new Environment Bill, said campaign group UK100.
A roundtable meeting with figures including WHO director general Dr Tedros Adhanom and Simon Stevens, NHS England chief executive, will take place at City Hall in London on Wednesday.
The summit was convened by Mr Khan and the UK100 group, a network of 95 local government leaders committed to using only clean energy in their towns and cities by 2050.
It comes after a study found spikes in air pollution trigger hundreds of heart attacks, strokes and acute asthma attacks in English cities compared to days when the air is cleaner.
The research by King's College London found there are significant short-term health risks caused by unclean air as well as contributing to up to 36,000 deaths every year.
The Clean Air Declaration proposes priorities for Government, including schemes encouraging people to switch to public transport and investing money to help small businesses change to zero-emission vehicles.
It includes a £1.5 billion "fleet renewal" plan, which would see cash incentives of between £2,000 and £6,000 for low-income citizens and small businesses to switch to clean transport, including for larger freight vehicles and for retrofit solutions.
Polly Billington, director of UK100, said: "Tackling toxic air pollution is a shared responsibility, that's why the partnership we have announced today between central government, local leaders and businesses is so important if we are going to stop people dying needlessly.
"With the right funding and resources, we can all play our part."
Gerry Keaney, chief executive of the British Vehicle Rental and Leasing Association (BVRLA), added: "The fleet sector is an important bridge to achieving a net zero emissions future and reducing emissions in cities and towns.
"Our sector recognises its influential role in this agenda, and we are willing to play our part."
A Government spokesperson said: "Improving air quality requires action from across society, including both national and local leaders, which is why government ministers will join the Mayor of London and others at this important summit to tackle this vital issue together.
"The government's landmark Environment Bill makes a clear commitment to set ambitious, legally-binding targets to reduce fine particulate matter and makes it easier for local authorities to address key sources of air pollution.
"We are already working hard to reduce emissions – including those from transport – and are investing £3.5 billion to clean up our air, while our Clean Air Strategy has been praised by the WHO as an 'example for the rest of the world to follow."
Recommended for you

Businesses lambast 'historic mistake' as Sunak confirms net-zero policy slide