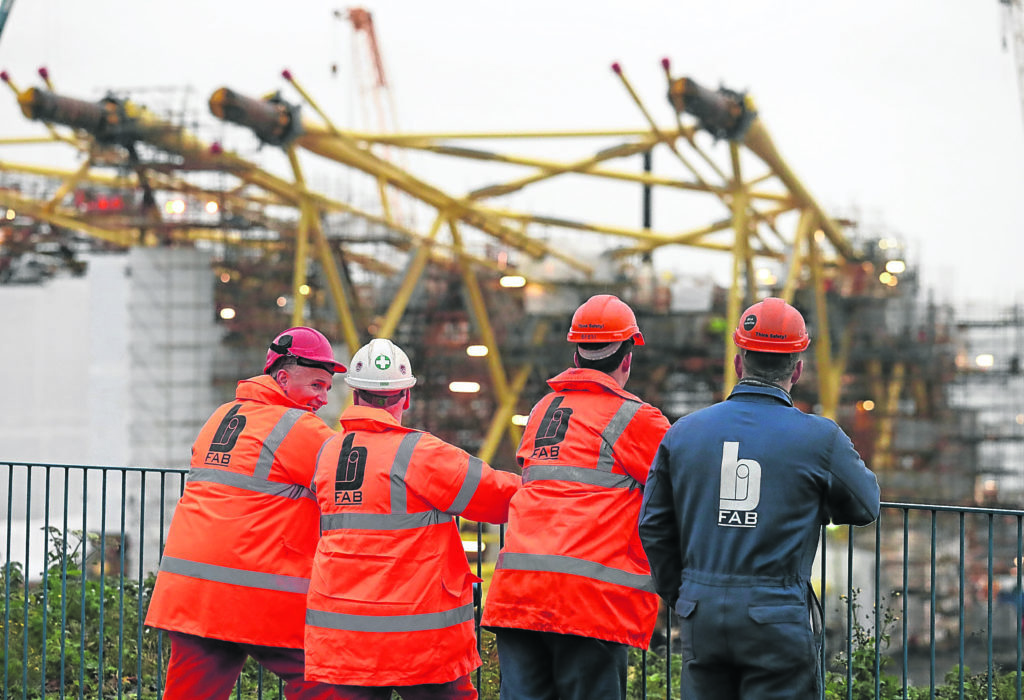 Anxious workers at Burntisland Fabrication (BiFab) have been "left in the dark" over their future despite a job-saving contract announcement last month, according to a Scottish trade union.
EDF Renewables confirmed in November that BiFab would fabricate "at least" eight foundation turbine jackets on the 54-turbine Neart Na Gaoithe (NnG) offshore wind project.
A further deal for the manufacture of up to 150 turbine pin piles is also understood to be up for grabs.
But despite claims BiFab's Canadian owner DF Barnes is "very close" to a deal with project contractor Saipem, no contract has yet been agreed.
It also comes amid widespread job losses at the firm's Arnish yard on the Isle of Lewis.
BiFab secured a contract for the Moray East Offshore Wind Farm that created more than 100 jobs and revitalising the Lewis facility back in March.
But as work on the Moray project nears completion, a further eight workers are set to go this week at the site – leaving BiFab with a skeleton staff of 10 before Christmas.
GMB Scotland secretary Gary Smith said last night: "We are now two weeks on since EDF announced a 'hugely important milestone' for the NnG project.
"But nothing yet has been signed for the yards in Arnish and Fife and workers are rightly asking why?
"Meanwhile, redundancies continue at Arnish and there is a growing sense of concern."
DF Barnes said last night that the firm was "still confident of success" in its talks with Italian firm Saipem.
The offshore contractor – who will run the construction phase of the Firth of Forth wind project – said it was unable to comment while negotiations are still underway.
EDF Renewables refused to comment despite a request.
BiFab was rescued from the brink of administration by the Scottish Government in a £25 million agreement in 2017 before being purchased by Canadian firm DF Barnes in April 2018, although hundreds of jobs were shed.
The firm has struggled to compete for big contracts since, missing out on work at the Kincardine Floating Wind Farm and an Orkney marine tidal project.
Highlands and Islands Labour MSP, Rhoda Grant, said the last contract she had with BiFab at Arnish confirmed that the firm was "negotiating" a couple of contracts.
She added: "They also advised me that they were training up local staff in the interim in conjunction with Lews Castle College so I would very much hope that these contracts will be confirmed in early course as I got the real impression that they were hopeful for the future and they were investing in required training for some of workforce."