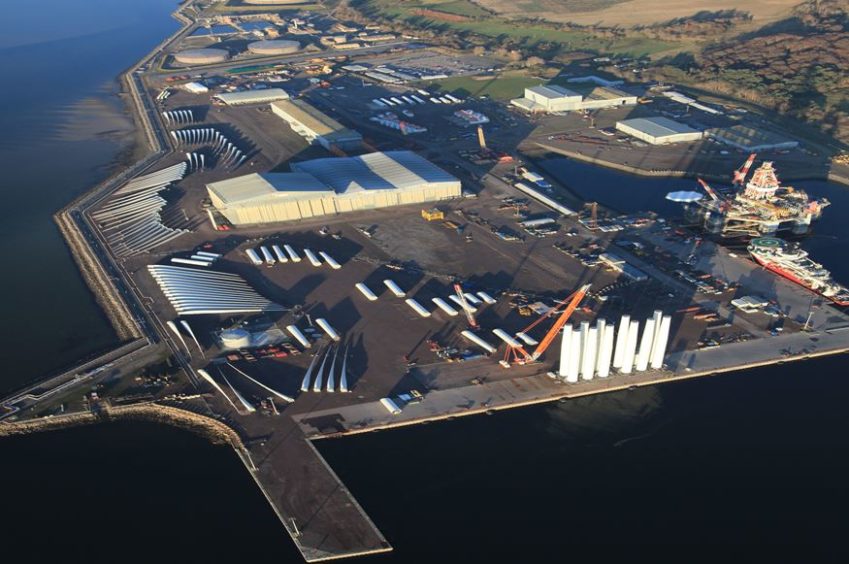 Nigg Energy Park's key role in the construction of the Beatrice offshore wind farm has helped boost profits and turnover for its owner, Global Energy Group (GEG).
GEG chairman Roy MacGregor also hailed the parts played by strong performances by the group's fabrication and utilities businesses, and the recovery of the oil and gas sector in a "good year" for the Inverness-based firm.
GEG said earnings before interest, tax, depreciation and amortisation rose to £27.9 million in the year to the end of last March, from £21.6m in 2017-18.
The energy industry services group's revenue grew to £300m, from £289m, over the period.
The company described the results as "impressive", given a de-merger at the end of last January, when about 40% of the group became subsidiaries of a new company owned by two of Mr MacGregor's sons and a Japanese investor.
Nigg Energy Park, in Easter Ross, was used as a marshalling and construction facility for the development of the 84-turbine Beatrice wind farm, eight miles off the Caithness coast, which started generating electricity last July.
Mr MacGregor said: "It has been a good year for us, and the increased profitability highlights our staging port opportunity for the Port of Nigg facility with a significant increase in utilisation of the yard, quayside and mobile cranes to support the offshore wind project.
"This combined with the group's fabrication and utilities portfolio performing well and the recovery in the oil and gas sector supported growth within the group.
"Port of Nigg is now being established as Scotland's offshore renewables hub as well as a multi-user site.
"The port now offers a full service offering, including logistics and fabrication services, and supports both renewable projects as well as traditional oil and gas activities.
"Further investment in the yard is being considered in the future to support the ever-evolving energy market."
GEG had an average monthly workforce of 1,882 in 2018-19, up from 1,547 in the previous year.
Mr MacGregor added: "Our people continue to work hard in all areas of our business, and it was particularly pleasing to see our Global E & C brand winning a life-of-field contract for brownfield services with Apache's North Sea.
"This contract win highlights the strong relationship which has been built up over many years and gives us great confidence in the quality of our workforce."
GEG's board is confident about a portfolio that is "resilient to economic and political influences", he said.